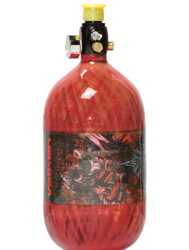 This is the Paintball Tank Sale you have been waiting for
Morgan, UT (PRWEB) December 06, 2012
Action Center Announces a new product for their Christmas super sale the Valken Custom Edition Crossfire Tank (68/4500 HP)
Valken Sports has part partnered with Crossfire to bring you the "Medieval Series" Tanks. Custom Valken graphics and colors adorn each tank. Valken's Coat of Arms, Four Horsemen, Bombshell, & V-Tac are represented in this series.
Colors-
Black - Coat of Arms
Blue - Death
Green - Famine
Yellow - Pestilence
Red - War
Olive - V-Tac
Orange - Bombshell
Features
Rebuild-able (only three parts)
Shorter (a full ¾ inch shorter)
Lighter (over 2.4 ounces lighter)
Reliable (tested at some of the busiest fields with ZERO repair needs)
Mini gauge
Flats (not round) on both the regulator body and bonnet for easy non-damaging service and hydro
Two set screws for added safety and security.
Dual burst discs
Overall Length – 10.2" (Length while screwed into ASA – 9.6")
Overall Weight – 2lbs 5.6oz.
Crossfire Inc specializes in custom paintball tanks for the basic to the extreme paintball-er.
Cross Fire is the only company in paintball that manufacturers the compressed air or nitro tanks. We are a fully certified DOT manufacturer as well as hydro tester. They fully understand the use you put on your paintball tanks and also the neglect.
Cross Fire is the oldest regulator manufacturer. they among the first to make the fixed high pressure regulator and the pioneer of the first low pressure regulator. Their valves have always been the fastest recharging regulators/valves in paintball. Making your paintball gun perform to the best of its ability. Cross-fire regulators have won more tournaments than any other paintball valve on the market.
For information on these paintball tanks visit
http://www.actioncenterpaintball.com/Valken-Custom-Edition-Crossfire-Tank-68-4500-HP.html
http://www.paintballguns.tv/Valken-Custom-Edition-Crossfire-Tank-684500-HP_p_536.html#