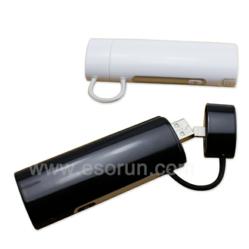 Shenzhen, China (PRWEB) December 06, 2012
The first power bank for iPhone 5 is now available from Shenzhen Esorun Technology Co. Ltd. This iPhone 5 power bank uses an official 8-pin connector and comes with an MFI Certificate.
Users of the very popular and successful new iPhone 5 can now enjoy the convenience of using portable chargers. Mobile phone users all over the world have been using portable chargers to charge their mobile phones, cameras and other gadgets. The convenience and handiness of this product has made it so popular for gadget lovers.
With mobile phones being such an essential in people's lives, it is very easy for them to run out of power since people use them so much in a day. It is hard for mobile phone users to imagine their phones running out of power and losing communication. Now they don't have to worry about that anymore since they can just charge and portable charger and bring it wherever they go and charge their mobile phones when they need to. Meanwhile this power bank possesses a Micro connector which is compatible with other mobile phones and digital devices.
iPhone 5 users now have their own stylish and fashionable portable charger from Shenzhen Esorun Technology Co. Ltd. This mini-size iPhone 5 Power Bank comes with an original Apple 8-pin connector and Micro USB plug. They come in sleek designs to match the beauty and sleekness of the iPhone 5 itself.
Now iPhone 5 users never have to worry about their phones running out of power. Users who want more information about the iPhone battery case or the iPhone power bank can find it on the official website http://www.esorun.com.
About Shenzhen Esorun Technology Co. Ltd.
Shenzhen Esorun Technology Co. Ltd. is a professional technology company that provides a wide range of iPhone and iPad accessories, and other gadget accessories such as power banks, wireless external hard drives, speakers and more. For more information, contact George Jiang at sales(at)esorun(dot)com.