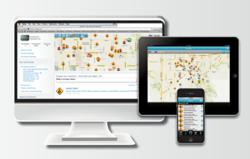 Universal access to sex offender information and alerts helps families protect their children.
LAS VEGAS, NEVADA AND PALO ALTO, CALIF. (PRWEB) December 06, 2012
AlertID™, the established leader in making the country's public safety information universally accessible now makes up-to-date sex offender information and alerts available to residents of Wisconsin. With the addition of Wisconsin, AlertID now makes these alerts available to more than 219 million people or about seventy percent of U.S. residents. These critical alerts are delivered directly to members' computers and mobile devices, thanks to AlertID.
Residents may register for free with AlertID, provide the addresses of areas they would like to monitor—home, workplace, school, park, shopping center or any other physical location (even in other states)—and then see a map displaying the locations of registered sex offenders in those areas. In addition, AlertID members will receive alerts on their smartphones, tablets and email whenever any information about existing sex offenders changes or when new sex offenders move into any of their monitored areas. Supported states include Oregon, Massachusetts, New Jersey, Colorado, Kentucky, Missouri, Tennessee, Oklahoma, North Carolina, Georgia, California, Texas, New York, Pennsylvania, Illinois, Florida, Maryland, Nevada, Idaho and Arizona. Additional states will be announced soon.
"We are committed to providing universal access to sex offender information and alerts, because it helps families protect their children," said Ken Wiles, AlertID's Chief Executive Officer. "This information helps families make informed decisions about the security of areas in which their children live, play and go to school."
To sign up for a free account or for more information, go to http://www.AlertID.com.