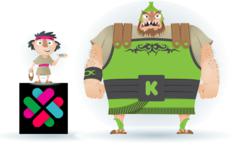 Recent changes by Kickstarter in the Product Design Category sends creators using Renders and Simulations to Crowdfunding Rivals.
Savannah, GA (PRWEB) December 10, 2012
ZOpro may be the first Successful Kickstarter Project to launch a Second Phase on Indiegogo which is the closest competitor to the leading Crowdfunding platform. ZOpro is the latest iPhone 5 Charging Accessory that also includes a 1/4-20 Tripod Mount and is Magnetic Lens Compatible. The idea is to enhance what is thought to be one of the best smartphone camera systems available on the iPhone 5 made by Apple, inc. in Cupertino, CA.
ZOpro quickly surpassed the $15,000 minimum goal set on Kickstarter earlier this month with backers that paid for mold and tooling costs, but the project fell short of company goals for Minimum Order Quantities required to lower the cost of mass production. After noticing that there were several highly successful products recently launched on Indiegogo, ZOpro decided to launch a Phase Two project that would put both Crowd Funding platforms to the test while moving forward with production as planned.
Recent changes put limitations on the Product Design category in Kickstarter. The two most significant changes are that creators are no longer able to use "Renders" or "Simulations" on projects in that category. The other change limits backers to only One Reward, where highly successful projects in the past like the Pebble Watch ($10,266,845) were able to offer distributor packs of 100 units to backers. In defense, the move was made to protect backers from mistaking products rendered by computers for the real thing. Kickstarter also has a more strict process for project approval than Indiegogo.
Indiegogo's recent surge in Design Category Projects; Misfit Shine, a wireless activity tracker currently at $468,121, Stick-N-Find Bluetooth location system $174,943, and Robot Dragonfly, a palm sized flying robot $284,127 (to name a few), show a shift in momentum only months following Kickstarters new restrictions. The Creators on the platform still enjoy the ability to use "Renders" and offer "Multiple Rewards" indicating that some projects are finding an easier route to meet funding goals with those tools in hand. Although similar in many ways, Indiegogo has Contributors instead of Backers and offers both Flexible and Fixed Funding. With Flexible funding projects don't have to reach a goal to receive contributions but must pay more in commission if the goal is not met. Commissions are similar on both platforms while Indiegogo takes most credit cards and Paypal. Kickstarter requires an Amazon account for payment.
Crowdfunding is important for the future of design giving life to innovative products that may have never seen the light of day. Kickstarter has proven to be a strong platform and the adventure with Indiegogo should be a great experience. The crowd will ultimately decide on who the The Top Crowdfunding Site really is. Tune in to the ZOpro Experiment which will begin on December 10th 2012 and run through the end of January 2013 at the link provided.
About SwipeCases, LLC - ZOpro
SwipeCases, LLC is the designer and maker of ZOpro and other unique technology related products. The ZOpro project is a collaboration between President Joe Adams and Designer Alex Werbickas, a graduate of Savannah School of Art and Design and winner of the prestigious Platinum "A Design" Award in 2012.