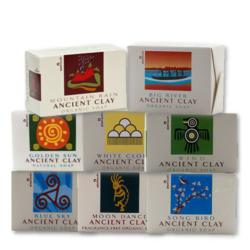 It's been scientifically proven that scent has a powerful effect on one's emotional state
Bakersfield, California (PRWEB) December 08, 2012
Earlier this week, Spirit Detox (spiritdetox.com) announced the addition of a line of ancient clay based bar soaps to its natural beauty products. The soaps, which are created by Zion Health, incorporate natural healing Kanwa clay (Calcium Montmorillonite) to provide the skin with nutrients and natural detoxification. By adding this to its existing line of clay-based beauty products, Spirit Detox hopes to give their customers an alternative to the toxin-laden bar soaps commonly found in homes.
These bar soaps, which include 10 different soaps created with the living Kanwa clay and a mix of essential oils, can be used in bathing and beauty routines. The clay in the soaps serves to draw toxins out of the skin, while the minerals in the clay provide nourishment and the essential oils improve health of the skin. The end result is glowing, healthy skin using a natural, clay-based soap.
When asked why adding the Zion Health soaps to the Spirit Detox lineup was important to him, the company's owner and founder, Albert Milligan, indicated it was the simplicity of the product that appealed to him. "Essential oil natural soap that is organic and pure, such as Ancient Clay Natural Soaps, typically consist of only a few ingredients as a base, with precious, 100% essential oils and essences to enhance the bathing experience."
One of the benefits of the Ancient Clay Natural Soaps, according to Mr. Milligan, is the mix of essential oils. These provide each bar with a soothing, calming scent, which can make bathing a relaxing experience. Many traditional soaps are scented with harsh, even dangerous chemicals that try to mimic these scents. The Ancient Clay Natural Soaps provide these relaxing, calming scents using completely natural essential oils.
This, Mr. Milligan indicated, is what set the line apart in his eyes, and what prompted him to team up with Zion Health to offer the Spirit Detox customers these bar soaps. "It's been scientifically proven that scent has a powerful effect on one's emotional state," he stated, "and allowing yourself those benefits without unnatural harsh chemicals or simulated fragrances is the ultimate in organic hygiene."
About Spirit Detox
Spirit Detox is an online store dedicated to offering the wellness-conscious consumer the natural, organic products necessary to maintain health and wellness. This includes a line of beauty and hygiene products that harness the natural healing power of clay. To learn more or to shop for yourself, visit http://www.spiritdetox.com.
###
Contact:
Albert Milligan
Owner/Founder
Phone: 800-699-1077