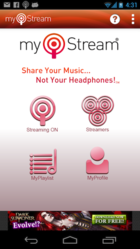 MyStream® allows users to wirelessly stream any audio file directly between groups of devices for an entirely new type of mobile content sharing experience.
New York, NY (PRWEB) December 06, 2012
Today MyStream® is proud to announce the launch of MyStream® for the Android platform. MyStream® allows users to wirelessly stream any audio file directly between groups of devices for an entirely new type of mobile content sharing experience. With MyStream®, users can live streaming audio files directly between devices for synchronous enjoyment, or users can also share playlists to hear any song on any users device that is within their MyStream® Playlist.
MyStream® can leverage either Bluetooth or Wi-Fi, so it can be used between friends even when there is no Internet or cellular reception! Now people can have a "Silent Disco" anytime, anywhere, with anyone's Playlist. Users may themselves silently dancing with a group of people in the subway while all hearing the same song at the same time in their headphones, now at least is a new way to avoid sharing someone's gross earbuds or always need to carry around a headphone splitter! All audio is streamed with a "Buy Now" button, so if a user likes what your friend in playing, they can buy it with two clicks!
MyStream® is the industry leading, multi-user, proximity enabled, auto-searching and pairing, completely secure, content streaming and transferring platform, MyStream® is now in the extremely unique position of being able to facilitate the next generation in content discovery, engagement and transmission for all types of physically relevant digital content.
MyStream® will soon facilitate the sharing of proximity enabled exclusive content that can only be streamed or downloaded by physically being in proximity to another user or MyStream® powered location. MyStream® will change the way that people interact with their surroundings, across platforms and devices. These future capabilities will not only facilitate new types of mobile utilities directly between users, but will also power the next generation of proximity utilities for all types of industries and applications.
"MyStream® has materialized the premise of sharing audio directly between multiple users who are in proximity to each other, and soon we will be adding national coverage," says Founder and CEO Richard Zelson. "The true capabilities of our cutting edge technology platform now open the doors for us to change the mobile landscape in ways that previously could only be imagined."
MyStream® has even been called an "Awesome App" by Rolling Stone, featured as a LifeHacker App of the Day, and named a top NY Tech Company to Watch by both CNET and Gigaom.
The app is now FREE for a limited time, in both the iTunes App Store and Google Play store. Designed and Developed in collaboration with interactive mobile product development lab ADEV Inc., MyStream® will continue to improve and offer rich application features to its growing user base in more than 90 countries worldwide.
About MyStream(R)
Richard Zelson, Founder and CEO of RMZ Development LLC DBA MyStream and design and developed in collaboration with ADEV Inc., the app is currently available for all Apple 3rd and 4th generation devices by visiting
http://itunes.mystreamapp.com.
And for Android Devices at the Google App Store at: http://goo.gl/ZQRGi
Or the Amazon App Store at: http://www.amzn.to/SHZ28K
Company Contact:
MyStream®
Richard Zelson Founder and CEO
http://www.MyStreamApp.com
rzelson(at)MyStreamApp(dot)com
Social Media:
http://www.facebook.com/MyStreamApp
http://www.twitter.com/MyStreamApp
http://www.youtube.com/MyStreamApp
Share Your Music.... Not Your Headphones(TM)
PR and Media Contact:
MPPR, LLC
Mark Politi CEO
http://www.MP-PublicRelations.com
MPPRLLCCorporate(at)Gmail(dot)com