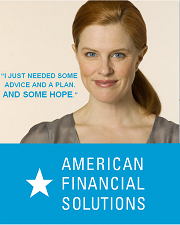 Many people turn to debt settlement not knowing the damage it may cause to their credit and the difficulties they will face to correct it.
Seattle, WA (PRWEB) December 07, 2012
According to an October 2012 report from the National Association of Consumer Bankruptcy Attorneys, as few as one in 10 consumers who use "debt settlement" plans actually end up debt free in the period of time promised by the settlement company. Becky House, Education Director with American Financial Solutions, a non-profit credit counseling agency, also sees a large problem with settlement companies. "Not only are people unable to pay their debts off in the set period of time, but they also severely damage their credit reports and risk being sued by the creditors they are trying to pay." Below are some tips on what to know for when looking for financial help.
House relays the story of Steve, an unemployed former construction worker who returned to school when the housing market crashed. He wanted to look at his credit reports because he had signed up for a, "debt consolidation" program and wanted to know how it was impacting him.
Steve had been making payments to the company for about six months. He explained that he chose the program because his payments were about half of what he had been paying. That, said House, is a red flag that someone may be dealing with a debt settlement company.
Steve's credit report showed the damage. Five months earlier, Steve's report showed a perfect payment history. After that point, his accounts showed a history of 30, 60, and 90-day late payments. The creditors were not receiving any money. Steve had unwittingly signed up for a debt settlement plan through a settlement company. It was not debt consolidation or debt management.
When someone settles a debt, it means they pay off a portion of what they owe to the creditor. They make monthly payments to the debt settlement company, who then takes their payments and deposits them into a savings account. The client continues to make payments and the funds grow until the debt settlement company has enough money to negotiate with the creditor. That may sound very enticing, but, as Steve found out, that discount in debt comes at a very high cost - namely a person's credit report and their pocket book.
The debt settlement company is holding on to the payment, so no money is being sent to creditors. This can result in a severely damaged credit report, creditors suing in order to try and secure payment, and additional fees and interest. In fact, many people do not realize they have entered into a settlement agreement and only find out when they receive notice that they are being sued.
There is a difference between debt consolidation, debt settlement and debt management programs. Debt consolidation involves obtaining a loan to pay off your debts and then making one, monthly payment to your new lender. It is important to learn the pros and cons to consolidating debts.
Debt management plans consist of consolidating payments on debt. People work with a credit counseling agency that contacts their creditors and asks them to reduce interest rates, bring accounts back to a current status, and stop any late fees, over-the-limit fees or collection calls. The monthly payment is made to the credit counseling agency and they distribute it to each of the creditors on a person's plan.
American Financial Solutions recommends you ask questions if an ad promises to help people get out of debt quickly, easily, or by paying less than they owe. Ask:

Are they a debt settlement company?
What fees do they charge? Debt settlement companies are not allowed to charge upfront fees for their services.
How their program impacts a credit report?
Can you get your money back if the settlement doesn't work?
Are their counselors accredited or certified by an outside organization?
Are they licensed to offer their services in your state?
Will you have a formal written agreement or contract with them? Don't sign anything without reading it first and make sure all promises are in writing.
Knowing the difference between the types of debt management programs can be confusing. Certified credit counselors can help people evaluate all of their options. To get help today, contact a certified credit counselor by calling 1-888-864-8659.
American Financial Solutions is a non-profit 501(c)3 financial education and credit counseling agency that helps people find solutions for managing their money and improving their financial lives. AFS is a member of the National Foundation for Credit Counseling (NFCC) as well as the Association for Independent Consumer Credit Counseling Agencies (AICCCA). Find us and add us on Facebook, Twitter and Google+.