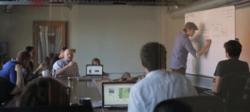 The Epipheo China team includes both Chinese and American creatives that will work together to create unique videos that will be, as Carnahan states, "Both culturally relevant and awesome."
Cincinnati, Ohio (PRWEB) December 06, 2012
Online video, more than any other medium, provides incredible opportunities for U.S.-based companies hoping to gain a foothold in China, which is home to the world's largest Internet market. Advertisers in China are faced with intense scrutiny as well as rapidly increasing costs when attempting to advertise on China's government-owned television networks, but online marketers have the opportunity to reach consumers directly, avoiding much of the red tape of other forms of advertising. Epipheo Studios has just launched Epipheo China, a service aimed at US based companies looking to reach Chinese consumers directly through animated 1-2 minute videos designed to entertain and enlighten.
Epipheo (named from the combination of the words epiphany & video) has built a reputation for being able to break down incredibly complex offerings into short animated videos that are both enlightening and engaging. Its list of clients,
including Google, Intel, Facebook, and SAP, is proof of its talent. Epipheo hopes to leverage its success in the US into what it sees as both an opportunity for growth for the agency as well as a much-needed service for its clients.
Jason Carnahan, who has been with Epipheo since soon after its launch, will head Epipheo China. Carnahan is functional in Mandarin and also lived in China prior to his work with Epipheo. The Epipheo China team includes both Chinese and American creatives that will work together to create unique videos that will be, as Carnahan states, "Both culturally relevant and awesome."