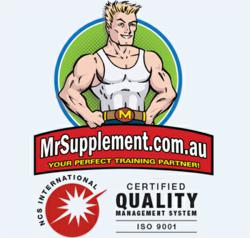 "We have always been committed to quality and customer satisfaction. Achieving ISO9001 accreditation has therefore been an important milestone for the business."
(PRWEB) December 07, 2012
MrSupplement.com.au, Australia's largest online retailer of bodybuilding, sports, and fitness supplements has today announced that it has been awarded ISO9001 certification.
ISO9001 is an internationally recognised set of quality management standards which cover all facets of the business related to the retail, warehousing, and distribution of goods, as well as ensuring the business complies with environmental and safety standards. Although ISO9001 accreditation is highly sort after by many businesses, to date, Mr Supplement is the only bodybuilding, sports, and fitness supplement retailer to carry the certification. To be successfully granted the ISO9001 certificate, businesses must undergo a stringent auditing process conducted by a third party organisation. Routine audits, both internal and external must then be conducted to maintain ISO9001 status over the years.
Greg Mate, Managing Director of Mr Supplement has stated that, "We have always been committed to quality and customer satisfaction. Achieving ISO9001 accreditation has therefore been an important milestone for the business." By putting such a management system into place, Mr Supplement is now ready for further expansion. "The business is continually growing", Mate continued, "ISO9001 will prepare us for future challenges and allow us to maintain the high level of customer satisfaction that we are known for."
"The online supplement business is very competitive," concluded Mate. "this way, we can provide our customers assurance that we are able to provide them with top quality products from reliable suppliers, the fastest and most efficient shipping of goods, a close to perfect rate of ensuring they get exactly what they ordered, and premium grade after-sales service. Combine this with the ease of being able to securely shop online for every supplement you could want including protein powders, pre workout supplements, and fat burners, you have yourself a winning combination."
MrSupplement.com.au began operation in 2004 and stocks Australia's largest range of high quality food and dietary supplements including brands such as Optimum Nutrition, BSN, MuscleTech, and Musashi, popular for the bodybuilding, sports nutrition, and weight loss markets. It is also home to Australia's largest online database for reliable articles and videos related to supplements, bodybuilding, training, and nutrition.