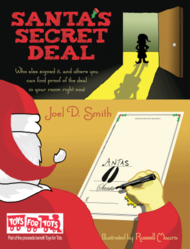 Parents will appreciate the book's gentle lesson about children taking care of their toys with love.
Lancaster, PA (PRWEB) December 06, 2012
The Grinch had nothing on Anastasia TasMerelda Claus, also known as Antas. According to the story in this new children's book, the reluctant toy-making elf vows to change Christmas forever when she sees how children neglect – and even lose – her prized creations. There's one big problem for all the residents of the North Pole if she goes through with her plan: Santa was hoping she would be his successor since she's his younger sister.
"Santa's Secret Deal" follows AnTas' revenge as she takes away not just toys but Christmas lights, chocolate candies and even the story's rhymes themselves as she creeps like a weasel from shadow to shadow. She's so sneaky, she can even sneak up on herself. Her bad attitude leads her to draw her two favorite letters – T and M – on all the toys she makes. Things really progress once she's in charge of Santa's sleigh on Christmas Eve. When one boy catches her in the act and apologizes for not picking up his toys, will she begin to understand the joy of Christmas?
Clever rhymes paired with Russell Maura's colorful illustrations lend themselves to read-aloud sessions for anyone who loves toys with a passion. Parents will appreciate the book's gentle lesson about children taking care of their toys with love. The book features a contract children can sign, agreeing to clean up and love their toys in exchange for AnTas not stealing them, backed up with signatures from AnTas, Rudolph and Santa and featuring the official seal of the North Pole. A portion of proceeds from the book will go to Toys for Tots.
Author Joel Smith is an Emmy award-winning television reporter from Maryland, where he reports on the morning news. He's been reporting the news and sports around the country for the last 15 years. He also has been a public announcer for such teams at the Baltimore Blast, University of Maryland Terrapins, D.C. United, Baltimore Thunder, Baltimore Blast and Washington Warthogs. He and his wife have two young children.
For additional information, please visit http://www.SantasSecretDeal.com.
Santa's Secret Deal
Joel Smith
Dog Ear Publishing
ISBN: 978-1-4575-1458-6
30 pages
$14.25 US
Available at Ingram, Amazon.com, Barnes & Noble and fine bookstores everywhere.
About Dog Ear Publishing, LLC
Dog Ear Publishing offers completely customized self-publishing services for independent authors. We provide cost-effective, fast, and highly profitable services to publish and distribute independently published books. Our book publishing and distribution services reach worldwide. Dog Ear authors retain all rights and complete creative control throughout the entire self-publishing process. Self-publishing services are available globally at http://www.dogearpublishing.net and from our offices in Indianapolis.
Dog Ear Publishing – self-publishing that actually makes sense.