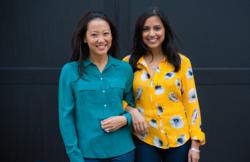 "There is a way to carve out a more beautiful corner. To build what you love into what you do. And to share it with the world - one lovely piece at a time."
(PRWEB) December 06, 2012
Already creating buzz in creative circles, BRIKA combines the art of beautifully crafted products with the art of storytelling—offering online shoppers a tightly curated selection of products complemented by inspiring and rich content.
Each week, the site introduces new makers who create exclusive-to-BRIKA products in the categories of House & Home, Bath + Beauty, Paper Goods, Accessories and Little Ones. BRIKA is designed for the creative, smart, sophisticated and stylish consumer—typically a woman, who is "engaged in life" and wants one-of-a-kind products that she can't find just anywhere and who wants it via a beautiful and easy-to-navigate online experience.
The name BRIKA comes from the Spanish word "fabrica" which means "factory"—the irony is that nothing on this site will ever be mass-produced or generic.
The Co-Founders, Jennifer Lee Koss and Kena Paranjape, came together to create BRIKA to inspire women to design their own beautifully crafted lives. Koss, an American, has a background in management consulting and private equity in the consumer and retail sector. She is a Harvard College, Oxford University and Harvard Business School graduate and is also a former cellist. Paranjape, a Canadian, has diversified retail and consumer experience at Gap, Inc., Joe Fresh and Indigo. She is a McGill University and University of Toronto MBA graduate and is also a former lifestyle blogger. As entrepreneurial women catering to other women, both believe in the creative thread that ties us all together.
The site launched on November 20th and is currently live at BRIKA.COM.