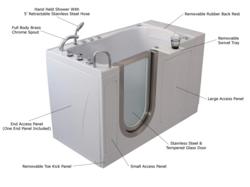 This new walk bathtubs shopping cart site makes it easy to purchase ADA compliant showers or a elderly bathtub over the internet.
New York, NY (PRWEB) December 06, 2012
Aging Safely officially announces it has launched a new shopping cart website to make it convenient for commercial and individual customers to order walk bathtubs and other fixtures that help mobility impaired individuals bathe. The user-friendly shopping cart website will enable customers to browse and select bathtubs for senior citizens for soaking and hydrotherapy without spending time placing an order over the phone.
Zach Wennsted, CEO of the company, said, "Some clients know exactly what they want and are knowledgeable about step in tub products. In some cases, they may be ordering an elderly bathtub or hydrotherapy walk bathtub appliance that they have previously used. Sometimes they may be choosing bathtubs for senior citizens or showers that are available with a unique feature that make choosing the right fixture fast. In these situations and others, customers can conveniently place an online order without sales staff assistance."
The new shopping cart website will still give customers the opportunity to contact the company and enjoy sales support if they want it. Thus, patrons using the new shopping cart website can enjoy the best of both worlds when ordering walk bathtubs and other elderly bathtub fixtures. Additionally, customers who want more information about particular products, such as walk in baths with showers, will be able to take advantage of detailed information about the products on the shopping cart website. This will help customers make a decision about which fixture to purchase.
The shopping website will feature pictures of products from four different walk in tub manufacturers. Shoppers can conveniently click on photographs to view detailed information about each elderly bathtub or hydrotherapy tub. Descriptions about the tubs and showers will include dimensions, warranty information and pricing. Customers will learn about standard safety features which may vary by model and brand, but minimally include grab bars, a low threshold, convenient door entry and non-skid flooring.
The new shopping cart website offers convenient, secure payment with a credit card, so customers can confidently buy delivery only walk bathtubs and showers. The shopping cart website offers complimentary delivery with every purchase to save customers more on already low prices. Walk in baths with showers and other bathing products that facilitate bathing independence usually arrive within a week of the purchase. Customers will also receive an immediate receipt and confirmation of their purchase.
Contact Information:
Mr. Zach Wennstedt
info (at) walkbathtubs (dot) com
720-495-5497