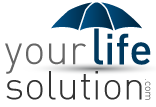 Purchasing a permanent life insurance policy is essentially like buying a fortune of tax-free money that will cost far less in payments than the final benefit will provide
Chicago, IL (PRWEB) December 06, 2012
YourLifeSolution.com, a website which provides instantaneous life insurance quotes without asking for any personal information, has just completed a comprehensive analysis of the benefits of universal life insurance and the profits that it can create for an individual's estate. The agency believes that in scenarios where a life insurance applicant is healthy and has the funds to afford universal life insurance, it is an excellent option that ensures a guaranteed profit assuming the insured never lapses or cancels the policy.
According to YourLifeSolution.com's analysis, which was conducted by the founder, a healthy man of an age of 40 who purchases $1,000,000 worth of universal life insurance would pay a total of $191,120 in premiums over the course of forty years. This means that if the insured in this scenario were to die at 80 years-old, their estate or beneficiaries would receive $1,000,000 tax-free from a financial product that was funded with less than one-fifth of that. If the same annual premium of $4,788 were put into investments for 40 years and earned a consistent after-tax gain of 6% the balance would equal $785,461. The permanent life insurance in the scenario where the insured dies at 80 would generate a return of $808,880. According to YourLifeSolution.com, in order to achieve this outcome with a 39% income tax rate, an individual would have to produce a return of roughly 10% pre-tax. "For affluent clients who expect to have estate taxes and lifelong liabilities due to businesses and property they own, there are definite advantages to owning permanent life insurance. While I believe in the 'buy term and invest the difference' mantra when a cash-strapped American needs a large amount of coverage to protect their family, it likely isn't the most ideal option for those with complex and perpetual financial liabilities", said Eric Smith, the founder of YourLifeSolution.com.
YourLifeSolution.com intends to start targeting affluent Americans to provide them accurate proposals on just how much universal life insurance can theoretically benefit their families and estate, and how it is guaranteed to produce some return, so long as the insured carries it until death. "Purchasing a permanent life insurance policy is essentially like buying a fortune of tax-free money that will cost far less in payments than the final benefit will provide", said Eric Smith.
Consumers interested in getting an instant quote on permanent life insurance can do so at YourLifeSolution.com by selecting "To Age 121 Level" under the label "Type of Insurance". Term life insurance quotes are also available within the same page.