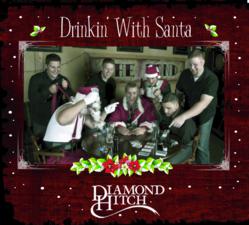 NASHVILLE, TN (PRWEB) December 06, 2012
Nashville's Diamond Hitch, one of the brightest up and coming bands in country music, has released an all-new 5-song Christmas EP titled, "Drinkin' with Santa," via Rockin' U Records. With their distinctive vocals, collective harmonies and authentic country swagger, Diamond Hitch has put together a genuine country Christmas project that would make Cash and Jennings proud with titles like "Blue Christmas," "Run, Run, Rudolph," "I'll Be Home For Christmas" and the band's original title track.
Recorded in Nashville, "Drinkin' with Santa" was produced by Ben Terry, whose studio credits include Toby Keith, Taylor Swift, Kristin Chenoweth, Kenny Chesney and others.
"This album was really fun for us to do," says the band's frontman, Jacob Boyd. "It gave us the opportunity to go in and cut some classic Christmas songs that everyone loves but with a new life and our own spin that makes them brand new again. I think the fans will really like what we have done with this EP, and they will especially love the original tune, 'Drinkin' with Santa.' Who wouldn't want to have a drink with Santa?"
Diamond Hitch will headline a free holiday concert event at Nashville's Tequila Cowboy on December 16th, with special guests Heather Powers, Bryan Duncan, Bob Carlisle and Mycle Wastman, a member of Team Cee Lo on the current season of NBC's monster hit series, "The Voice."
Along with their new EP, Diamond Hitch recently filmed an upcoming show for the BRAVO television network. They have also joined with Garth Brooks, Darius Rucker and Tracey Lawrence for Operation Troop Aid, a national non-profit organization offering assistance to America's armed forces.
Diamond Hitch is managed by Nashville-based Fused Management.
# # #