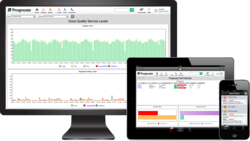 Technology partners like Integrated Research are helping Avaya bring new, innovative solutions to customers
(PRWEB UK) 7 December 2012
Integrated Research, a leading provider of performance management solutions, announced that its newly-released Prognosis VoIP Monitor 4 solution is compliant with key collaboration solutions from Avaya, a global provider of business collaboration and communication solutions.
Prognosis VoIP Monitor 4 enables organizations with up to 5,000 phones to manage voice quality across solutions from Avaya and other select vendors, ensuring improved call quality, service reliability and proactive issue resolution. With a brand new tablet-friendly user interface and native iOS App, Prognosis First Responder, voice administrators are empowered to manage voice quality whether in the office or on the move. The application is now compliance-tested by Avaya for compatibility with Avaya Aura® Communication Manager 6.2.
"With Prognosis VoIP Monitor 4 we have taken the best of our existing products, embraced state of the art technologies and created world-class multi-vendor voice quality monitoring," said Mark Brayan, CEO, Integrated Research. "Avaya compliance testing validates the compatibility of IR's performance management software and means customers can be assured of Prognosis VoIP Monitor's interoperability with their Avaya environment."
Integrated Research is a Technology Partner in the Avaya DevConnect program - an initiative to develop, market and sell innovative third-party products that interoperate with Avaya technology and extend the value of a company's investment in its network.
As a Technology Partner, Integrated Research is eligible to submit products for compliance testing by the Avaya Solution Interoperability and Test Lab. There, a team of Avaya engineers develops a comprehensive test plan for each application to verify whether it is Avaya compatible. Doing so enables businesses to confidently add best-in-class capabilities to their network without having to replace their existing infrastructure - speeding deployment of new applications and reducing both network complexity and implementation costs.
"Technology partners like Integrated Research are helping Avaya bring new, innovative solutions to customers," said Eric Rossman, vice president, developer relations, Avaya. "These solutions not only integrate seamlessly with a customer's Avaya environment, but also extend their capabilities by embracing the changing BYOD nature of the workplace."
Additional Resources:
http://www.avaya.com/devconnect
http://www.devconnectmarketplace.com
http://www.voicequality.com
About Avaya:
Avaya is a global provider of business collaboration and communications solutions, providing unified communications, contact centers, networking and related services to companies of all sizes around the world. For more information please visit http://www.avaya.com.
About Integrated Research (IR):
IR is a leading global provider of high-definition performance monitoring, diagnostics and reporting software. The creator of award-winning Prognosis®, IR builds scalable, customizable solutions designed to manage continuity-critical IT infrastructure, payments and communications ecosystems. IR provides real time solutions that give customers the insight they need to run their business, reduce their operating costs, minimize risk, and gain competitive advantage. For further information on Integrated Research, please visit http://www.ir.com