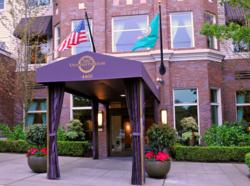 University House shows our entire community that we can do well in business by doing good for all.
Seattle, WA (PRWEB) December 07, 2012
University of Washington Retirement Association (UWRA) leaders and members join University House Wallingford in celebration of two significant anniversaries: the 15th anniversary of University House Wallingford, which was developed via an affiliation between the UWRA and Era Living, parent company to University House Wallingford, as well as the 25th anniversary of Era Living.
The UWRA and Era Living affiliation relationship began 18 years ago. UWRA selected Era Living to carry out its goal of creating retirement housing for its members, retired University of Washington (UW) faculty and staff. Era Living's successful collaboration with the Seattle Education Auxiliary to create Ida Culver House Broadview had earned the organization a reputation for quality in buildings, health care services, amenities, and programming.
Over the course of several years, every detail of University House Wallingford was developed by a UWRA committee and through 'Town Hall' meetings with UWRA members. In 1997, the first group of residents moved into University House Wallingford. Within one year, the community was fully leased and continues to be a success to this day, offering an unparalleled blend of lifelong learning, resident-driven leadership, and cultural exploration.
"When you look at the history of University House and the UWRA, there are many reasons why all of this just might not have worked," said UWRA President Bob Roseth. "Today, it is a tribute to Eli and Rebecca Almo (owners of Era Living) and to the UWRA that this all worked. University House shows our entire community that we can do well in business by doing good for all."
Era Living is a mission-driven organization that prioritizes lifelong learning, healthy aging, cultural and community engagement.
"University House is unique because of its alignment with the UWRA, University of Washington Schools of Nursing, Pharmacy, Social Work, and Information Science, as well as relationships with non-profits and our community at large" said Era Living Founder and CEO, Eli Almo. "University House is also spectacular because of who lives here. There is vibrancy, expression of passions, and appreciation between residents and staff that makes this an exciting and innovative place to live."
Since 1987, Era Living has been dedicated to fostering a healthy and engaging environment of whole body wellness, culture, warmth, and social fulfillment – providing premier healthcare services and enriching activities at all eight of its communities. The Era Living communities are Aljoya Mercer Island, Aljoya Thornton Place, Ida Culver House Broadview, Ida Culver House Ravenna, The Gardens at Town Square, The Lakeshore, University House Issaquah, and University House Wallingford. More information at http://www.eraliving.com.