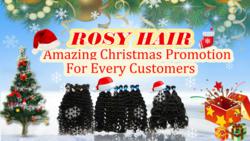 (PRWEB) December 06, 2012
With the Christmas' coming, RosyHair.com, a leading hair extension online shop, has launched its Human Hair Extensions Christmas Promotion for the USA market, up to 68% off, to acknowledge the customers.
According to Bernd Landis, CEO of the company, the promotion covers all products, including popular Brazilian hair and Peruvian hair, on their website, where customers can find the original prices and the latest discounted prices. The USA customers can visit their website, and choose their favorite hair styles.
"The USA market is one of the main market for our businesses in the world, and there is no exemption for our hair extension industry, and our company. We are delighted to see our business' fast growth there, and hope to acknowledge our customers through such a promotion." Said, Bernd Landis.
Vicky Mok, a marketing manager of the company, said, "Hair extensions are an easy way to change your look without having to wait months for your hair to grow out. At RosyHair.com, our experts will tell you how to style your hair extensions to their potential."
RosyHair.com has obtained much laudation from the public in the last few years, and its hair extensions are no longer synonymous with luxury, but the grade and exclusive cultural connotation.
Bernd Landis stressed, "Like fashion, hair evolves season after season, and hairdo is nothing if not fashionable! No matter virgin Malaysian hair or virgin Indian hair weave, customers can always find their favorite types of human hair extensions on our website. Keep up with the times, and we hope we can help customers enjoy the benefits we bring."
About Rosyhair.com
Founded in 1985, Rosyhair.com is dedicated to bringing hair fashions to a new level of choice and sophistication. Rosyhair.com has proudly grown to be the number-one hair resource in the hair fashion industry and have become known as "the best place to find perfect hair extensions".
For more information, please visit: http://www.rosyhair.com