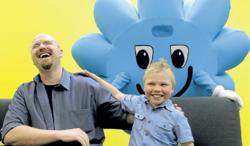 Dear Tim & Ana,
This is just a very quick but ENORMOUS thankyou before I write to you more formally to thank you so very much for planning and bringing to fruition a dream for Jonathon. So MANY, MANY THANKS.
Janet Cowling
Melbourne, Victoria (PRWEB) December 06, 2012
The TLC for kids junior board is hosting it's first Bunnings BBQ to raise money and awareness for one of Australia's leading children's charities.
The junior board is made up of a team of enthusiastic entrepreneurs & professionals from companies such as NAB, Ernst & Young and Adriatic Furniture. All members offer their time at no charge as they have a strong desire to help put a smile on sick children's faces across Australia.
The junior board has rallied support from all types of businesses such as Brenta Meats and Simplot to supply sausages, drinks and to help man the stand on the day.
Bunnings offers this brilliant opportunity to not-for-profits and community groups across Australia, and all money raised goes straight to the charity.
"After being a solid supporter of TLC for kids for over 5 years it has been a delight to now be on the junior board and be able to do more to support them. I was drawn to the cause for their devotion to helping kids so efficiently. There is no other service like their Rapid Service or the Distraction Boxes. These services provide support, surprises and pain relief to sick children, and in the hospital system this makes all the difference to these families" Say Caroline Balinska – Junior board member.
This BBQ is one of many events that the members hold each year to help raise money. Anyone wishing to contribute a donation is welcome to show up on the day and buy a sausage. The TLC for kids mascots Splidge and Splodge will be there to entertain the kids. Donations can also be made via the website.
Event Details:
Bunnings Maribyrnong
Saturday 15th December
9am – 4pm
About TLC for kids
National non-profit, TLC for kids, is the only organisation in Australia able to provide free support for kids during painful procedures, and within the critical 48 hour period following an emotionally traumatic experience in hospital.
Their driving force is to reach those kids with less common illnesses and diseases such as accident & burns victims and kids who, by sheer misfortune, don't meet the criteria of the existing services.
For further information:
Ana Darras, Ana(at)tlcforkids(dot)org.au, 0417 369 101