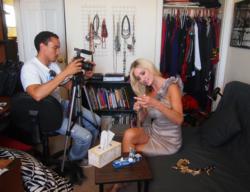 You'll be amazed at the unusual uses you can find for everyday products.
San Francisco, CA (PRWEB) December 06, 2012
Have you ever tried thinking of novel uses for everyday products? You might find many different possibilities, such as reflected in this newly released humorous video. It begins with a housewife praising the power of Listerine to not only clean plaque and tarter from her teeth, but to clean out clogs in toilets. Next a young man demonstrates how he has found a new use for phone books, which he doesn't use anymore, since all the numbers are in his smart phone. So he tears out the pages and uses them as paper towels to clean up in his kitchen and polish his car, so he saves money by no longer buying paper towels. Then, a society woman shows how she polishes her jewelry and gets it to shine. Finally, a tough guy who looks like a member of the Mafia shows how he uses beer to entice slugs to drink and then they drown – the perfect solution to getting rid of slugs in the garden. Afterwards, he can drink any left-over beer, too.
The video is one of a series of humorous videos developed by Gini Graham Scott, the owner of Changemakers Productions, who has created a series of videos as a commentary on modern day life. Another one that has gained widespread interest is Bad Bad Banks http://www.youtube.com/watch?v=2sdw2IAuZYo, a humorous music video about how Wells Fargo and the Bank of America triggered a default and house sale by reducing her credit line.
The company also produces short videos for clients by starting with the script, figuring out the best way to film the project, and putting together a team of actors and crew members to make the video.
To date, Changemakers Productions has produced over 50 short videos which can be seen on its Website at http://www.changemakersproductions.com and on Youtube at http://www.youtube.com/changemakersprod. Besides Working with Drano, Gini Graham Scott has just produced a series of videos featuring her story of how she dealt with the mortgage mess by trying to work unsuccessfully with her bank to modify her mortgage and eventually sold her house. The videos are combined with photos and videos from an auction action to save some homeowners home at an auction and from a protest of several hundred demonstrators at Wells Fargo headquarters during the company's annual shareholder meeting. One is called: The Wells Fargo Protest and Problems with Wells Fargo and the Bank of America
Gini also turned her ticket for turning right at a red light which was filmed by a video camera into a funny video called Traffic Court Star, featuring four men protesting getting and tearing up a ticket, because they don't want to "be a traffic court star."
Gini is the founder of Changemakers Productions http://www.changemakersproductions.com and Changemakers Publishing and Writing. She is the author of over 50 published books, including two books on the film industry: The Complete Guide to Writing, Producing, and Directing a Low-Budget Short Film, published by Hal Leonard, and Marketing Films to Millennials and Baby Boomers, published by Changemakers Publishing. She received a Ph.D. in Sociology from the University of California in Berkeley, a J.D. from the University of San Francisco Law School, and M.A.s in Anthropology, Mass Communications and Organizational/Consumer/Audience Behavior and Popular Culture and Lifestyles at California State University, East Bay. She is getting an additional MS in Recreation and Tourism in 2013. She has spoken about the topics of her books to many groups and the media, including appearances on Good Morning America, Oprah, and CNN.