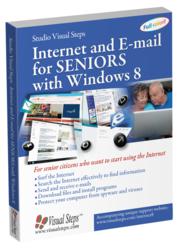 This computer book is the ultimate starting point for senior citizens who want to start using the Internet!
New York (PRWEB) December 13, 2012
The computer book Internet and Email for SENIORS with Windows 8 by Visual Steps Publishing is the ultimate starting point for senior citizens who want to start using the Internet. This computer book's easy-to-understand instructions will guide the reader step by step in learning to use the Internet and email. The book teaches the essential skills needed to take full advantage of what the Internet can offer. Important topics such as Internet safety and privacy settings are also discussed. Furthermore, the book explains what kind of measures one can take to protect the computer.
The reader can work through the book at his own pace while sitting at the computer. This is the most easiest and effective way to acquire the skills needed to take full advantage of everything the Internet and email have to offer.
Internet and e-mail for SENIORS with Windows 8
Author: Studio Visual Steps
ISBN: 978 90 5905 128 7
Book type: Paperback, full color
Number of pages: 280
Price: US $22.95 Canada $25.95
Support website: http://www.visualsteps.com/internet8
Topics covered in this book:

surf the World Wide Web
search the Internet effectively to find information
send and receive emails
contact other Internet users
download free software from the Internet
protect your computer from intruders such as spyware and viruses
Visual Steps is the very successful publisher of the well-known computer books for seniors and is dedicated to help individuals over the age of 50 participate in the cyber-age. More than 20,000 copies of the title iPad for Seniors, 25,000 copies of the title Windows 7 for Seniors and 80,000 of Windows XP for Seniors have been sold.
All of the Visual Steps books follow the same methodology, known as the Visual Steps Method. This method distinguishes itself in a number of ways from traditional instructional methods. Attention is made to the special needs and requirements of the mature individual. Each product:

Allows learning in a friendly, fun and hands-on manner.
Uses a larger print format
Contains easy to understand, visually oriented, step-by-step instructions.
Has an extensive use of screen shots and illustrations.
Features practical, useful information and tips.
Includes follow-up exercises to reinforce new skills and increase confidence.
Offers special help topics for do-it-yourself error correcting as well as an extensive index.
The Visual Steps books are distributed by IPG. Sample chapters, table of contents and hi-resolution cover images can be found on http://www.visualsteps.com/press.
For more information about Visual Steps Publishing or to request a review copy or digital picture of one of the books, you can contact Mara Kok - mara.kok@visualsteps.com