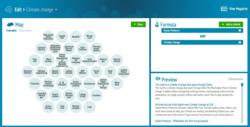 By connecting the technical skills of our Ex-CERN and EPFL engineers with our social sciences background, our team implemented advanced quality-filtering algorithms that go a long way in discovering quality and interesting content.
Geneva, Switzerland (PRWEB) December 10, 2012
Faveeo, a startup created this summer by two sociologists, an Ex-CERN and two EPFL software engineers, is launching a new "Information Discovery Engine", that speeds up online search by assisting users in the process of "searching, filtering and discovering" using an innovative and easy to use visual search tool.
Today, the team is inviting users to test-drive and support the development of it's new platform by contributing to it's crowdfunding campaign where users can get early-bird access to Faveeo, from as low as 20$ for a full year's access and 75$ for a special lifetime subscription that is reserved for the first 250 contributors. Access the campaign here
In exchange for contributions, the team is offering great gifts, including original artwork, stylish cotton bags, stickers, and plant seeds, to illustrate the fact that by helping the company, users are planting a seed to something that will hopefully grow up and mature. Users can find all the details of the campaign and the Faveeo system here.
With the help of an easy to use visual search interface, that suggests relevant concepts and keywords, users can now setup several "magazines", one per interest, that once created will monitor the web and social media in order to discover, filter and recommend the best content available for their query.
Advanced monitoring, filtering and discovery tool for the rest of us.
"We wanted to speed up content discovery for the general user, as we realized that when following a specific passion or interest, we were often doing the same searches over and over again to make sure not to missing anything. This is simply too time consuming." explains Alexis Dufresne.
Normally this type of advanced information discovery platforms is reserved for large corporations, but today Faveeo wants to change this and is inviting users worldwide to help them achieve this ambitious goal.
Faveeo is an ideal information discovery and search tool for bloggers, curators, students and basically anyone that needs to follow up a specific topic or industry but that has a limited amount of time for doing the filtering himself. Although it's much more powerful than a simple rss reader, it can be considered as an alternative to rss readers that tend to overload users with unfiltered notifications.
"Today, the burden of filtering the signal from the noise is on the shoulders of the end user, and unfortunately, most of us just don't have the time or the knowledge to do this", adds sociologist-in-chief and co-founder, Kian Rieben.
"It's also an alternative to today's personalization services that tend to try to guess the complexity of all the interests of a user. Our approach to this complex issue is to concentrate on getting the best possible content, listening to user's feedback about one interest at a time." Adds Nicholas Wolff, an EPFL master graduate in software engineering and Faveeo's CTO.
"We don't pretent to know who you are and what you like in all your complexity, but we still allow you to personalize each magazine according to your tastes and feedback for a specific topic.", he explains.
"By connecting the technical skills of our Ex-CERN and EPFL co-founders with our
sociological and social sciences background, our team implemented advanced quality-filtering algorithms that go a long way in doing the pre-selection and discovery of new interesting content for our users" says Faveeo co-founder and CEO Alexis Dufresne.
"When Clay Shirky coined the term Filter Failure, we all were inspired into creating a tool that would allow users to quickly and easily filter out the content coming in from the web and social media without requiring them to do all the time-consuming work of finding the appropriate sources or interesting people to follow. Faveeo filters out and recommends quality content sources, but also the most influencial users out there, for each specific topic you are passionate about!" says Alexis Dufresne to explain the team's motivations.
All information about Faveeo's crowdfuding campaign can be found here,
and the team invites all web users to grab one of the 250 lifetime subscriptions available for only 75$.
Faveeo was founded by two ex-CERN and EPFL software engineers and two sociologists, and is based in Geneva, Switzerland with another office in Montréal, Canada. Current clients of it's B2B product include REN21, Frankfurt School of Management, UICC and more.
You can also follow the team on their Twitter account @faveeo.