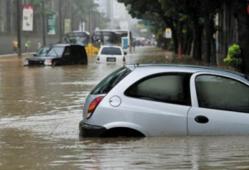 Often flooding problems will only become apparent some months later and at that point could be expensive to rectify.
(PRWEB UK) 6 December 2012
Vehicle investment protection specialists ALA have warned potential used car buyers to beware of unknowingly buying a flood damaged vehicle.
According to ALA, the recent flooding which affected large parts of the UK is expected to result in a higher number of flood damaged cars being sold in the second hand market, with the AA estimating that this recent spell of weather alone will see approximately 2800 flood damaged cars entering the used car market.
With this in mind, ALA have released a 5 point guide to how to spot a flood damaged car:
1. Signs of mud, silt, water or moisture lines in the interior:
Look in the glove box, under the dashboard, engine housing, boot and light clusters. Also check under interior flooring and boot lining checking that upholstery and carpets fit snugly – they may also give off a musty smell so be wary of strong air fresheners.
2. Consider having the AA or other reputable company carry out an inspection of the vehicle:
This would provide you with impartial advice and could help you to negotiate a better price.
3. Test drive the car:
Sometimes common sense will tell you something isn't right – look out for things like smoke appearing where it shouldn't.
4. Other signs of moisture:
Be vigilant for excessive condensation on the inside of the windows and fogging of interior instrument covers, e.g. gauges and speedometer.
5. Run a Vehicle History Data Check:
This will highlight if the vehicle has been declared a total loss and the category the write off falls into.
Simon England, CEO of ALA adds:
"For most people buying a car is a significant investment. Whilst consumer protection exists for a short time after the car has been purchased, however this is not indefinite. Often flooding problems will only become apparent some months later and at that point could be expensive to rectify."
For more information about ALA and their GAP insurance products, which protect the value of vehicles against depreciation and also offers added protection against vehicle theft please visit http://www.ala.co.uk or call 01653 916304