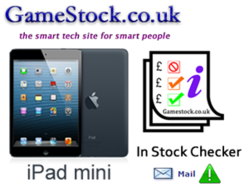 Price Drop Alerts & In-Stock Checker
London (PRWEB) December 08, 2012
GameStock.co.uk are pleased to announce another free service: "Smart Tech for Smart People" – an innovative Web App which provides timely information on where has Apple iPad Mini in stock?
The Mini iPad Stock Checker at GameStock provides email alerts to help you buy an iPad mini this Christmas.To use the App you must register first. Soon after you'll start recivening in-stock alerts to help you buy an iPad Mini this Christmas. Be quick, the average time before a sell out can be as little as 20-minutes, with deliveries coming in once per day from shops. As a site member you'll have instant access to unlock non-commissionable shops, read reports and set more price drops and stock alerts.
For help search on site for "Tell me when it's cheaper" - it does exactly what it says on the tin. Each time the cost goes down for a subscribed deal, an alert is emailed. The App now has automated bolt on stock alerts. Currently Wii-U Packs and iPad Mini have been virtually sold out within the hour after a new delivery becomes available. Members can add up to ten real-time stock alerts or price drops, fully managed by the member with no obligation to buy. Using this technology puts you at the front of the queue before it sells out. Join here for iPad Mini stock alerts. Link
Log in to GameStock® for console price drops, in-stock checking and alerts, or to discuss hot deals.