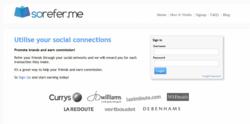 A fantastic opportunity for anyone with a Twitter of Facebook account.
Leeds, West Yorkshire (PRWEB UK) 7 December 2012
The advertising platform provides a route for members to earn commission on any sales generated through their social connections, offering a variety of products from some of the UK's top online retail brands.
Steve Pritchard, founder says, "Sorefer.me offers a fantastic opportunity for anyone with a Twitter of Facebook account to earn commission by promoting our advertiser products. We have partnered with some of the UK's most recognised retail brands to deliver a fantastic selection of products and offers to promote."
Sorefer.me is now working with seedrs.com, the investment platform, to raise funding to develop the server infrastructure and allow the service to expand beyond the UK.
"Choosing crowdfunding to raise early stage investment was a logical choice for us as it embraces social media to provide a diverse investor group."
Pritchard continues, "We had a handful of investment platforms to choose from, but Seedrs had the past success, experience and technology which worked with what we wanted."
The investment project is now live on Seedrs.com, any UK resident aged 18 or older can register and after answering some eligibility questions can browse and invest in UK startups. Furthermore the new Seed Enterprise Investment Scheme (SEIS) provides massive tax reliefs to individual investors who purchase new shares in very early-stage companies.
For further information on sorefer.me and investment opportunities please contact Steve Pritchard at steve (at) sorefer (dot) me.