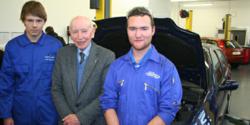 It's great to see interest in motoring being revitalised at places like MidKent College.
Gillingham, Kent, UK (PRWEB UK) 6 December 2012
Motorsport legend John Surtees was in pole position to open MidKent College's new £130,000 Motor Vehicle workshop.
The former motorbike road racer and Formula One driver – who remains the only man in history to have won world championships on both two and four wheels – was guest of honour at the Medway Campus ceremony on Wednesday (5 December).
After cutting the ribbon to officially open the workshop, Mr Surtees spent time chatting and posing for photographs with students and members of staff who remain in awe of the former racer's unique achievement.
He said: "In my day cars were less complex – particularly in terms of the electronics and accessories – so today you need the right equipment to enable you to find your way around a modern vehicle. That's what this fantastic new workshop provides.
"We need the basic skills that are so important to everyday life, and the world of motoring is still part of that.
"It's great to see that interest in motoring being revitalised at places like MidKent College, and facilities such as this new workshop are a great incentive for students."
MidKent College has for many years run Motor Vehicle courses at its Maidstone Campus but has only now opened a workshop at the Medway Campus due to increased demand.
The workshop – one of many first class facilities at the £86 million campus – will house the Diploma in Vehicle Maintenance course, which teaches the basic skills and knowledge required for a career in the maintenance and repair trade.
Principal Stephen Grix said: "The loss of the Education Maintenance Allowance (EMA) has made it more difficult for students to afford local transport, so we felt it was important people in Medway could still access our Motor Vehicle courses locally.
"We try to make sure our facilities are as good as we can afford, and that the College remains in a strong financial position to allow us to make such investment.
"We're very grateful a true sporting legend in John Surtees found the time to come here today."
Mr Surtees did not charge a fee to open the workshop. Instead the College will be making a donation to the Henry Surtees Foundation – a charity set up following the tragic death of John's son in an accident at Brands Hatch in 2009.
Click here for more information about Motor Vehicle courses at MidKent College.