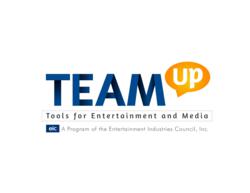 We appreciate the opportunity to offer this service to the California media in both
English and Spanish and look forward to increasing our cultural reach to bring these
important messages to all communities -- Marie Gallo Dyak
Los Angeles, CA (PRWEB) December 06, 2012
The Entertainment Industries Council, Inc. (EIC)'s, TEAM Up project, which provides Tools for Entertainment And Media, offers participants at the Cultural Competence & Mental Health Southern Region Summit XVIII (CCMH Summit XVIII) with opportunities to discover more about the influence of the entertainment and news media on the public's attitudes about mental health—and to learn proven techniques to partner with the media to reduce misconceptions and stereotypes about mental health.
In line with the Prevention and Early Intervention (PEI) component of the Mental Health Services Act (Proposition 63), the TEAM Up project will bring together a panel of African American and Latino journalists to help community-based mental health organizations learn how to work effectively with their local ethnic media outlets. Publicizing positive stories of hope and recovery in a culturally appropriate way can reduce the stigma and discrimination that prevents individuals experiencing mental health challenges from seeking services and support. Research from the US Substance Abuse and Mental Health Services Administration (SAMHSA) has shown that the majority of people (60.8%) who experience mental illness do not seek help for it.
The two-day summit, with a theme of "Beyond the Talk, Practicing the Walk: A Path to Bridge the Cultural Gap," begins today in San Diego—and is designed to reduce behavioral disparities for African-Americans and Latinos. TEAM Up will be featured as a media showcase project to discuss the work it is doing with the news and entertainment media to reduce mental health stigma and discrimination.
"TEAM Up builds on EIC's 30 years of successful communication outreach to accurately depict major health and social issues such as mental health, suicide prevention, substance use, HIV and AIDS, among others. Presenting and enhancing our reach in the diverse cultures of California are necessary to continue to provide journalists and creative writers with the best tools for accuracy and de-stigmatizing content," said Nedra Kline Weinreich, Program Manager, Entertainment Industries Council, TEAM Up.
Utilizing current communication research and top experts, EIC's First Draft service provides free resources and technical assistance to all journalists and the creative community that inform the writing of accurate and compelling stories, bridging the gap between health and social issues and encouraging accurate storytelling that raises these issues in public consciousness and inspires viewers.
"We appreciate the opportunity to offer this service to the California media in both English and Spanish and look forward to increasing our cultural reach to bring these important messages to all communities," commented Marie Gallo Dyak, Executive Vice President Program Services and Government Relations, Entertainment Industries Council.
TEAM Up partners include Reingold, Fischer Communications, Hispanic Communications Network and Chapman University.
The voter-approved Mental Health Services Act (Proposition 63) funds the program administered by the California Mental Health Services Authority as part of Prevention and Early Intervention Statewide Initiatives to reduce stigma and discrimination, prevent suicides, and improve student mental health.
About Entertainment Industries Council
EIC, a non-profit organization, was founded in 1983 by leaders of the entertainment industry to bring the power and influence of the industry to bear on communication about health and social issues. The organization is considered to be the chief pioneer of entertainment outreach and one of the premiere success stories in the field of entertainment education. EIC provides information resources for entertainment creators through innovative and time-proven services and methods of "encouraging the art of making a difference" from within the entertainment industry. EIC produces the simulcast national television special PRISM Awards Showcase which addresses accurate portrayals of prevention, treatment and recovery from drug, alcohol and tobacco use, and mental health concerns. The organization also produces the S.E.T Awards, honoring positive and non-stereotypical portrayals of science, engineering and technology.
EIC also addresses issues such as diabetes, ADHD, Post Traumatic Stress Disorder, foster care, women's health, firearm safety and injury prevention, sun safety and skin cancer prevention, human trafficking, terrorism and homeland security, eating disorders and obesity, seat belt use and traffic safety, and HIV/AIDS prevention. The organization has also launched an initiative to increase the public profile and interest in science, engineering and technology. EIC's web site is http://www.eiconline.org. The PRISM Awards web site is http://www.prismawards.com.
About CalMHSA
A portion of the Entertainment Industries Council, Inc.'s mental health programming is funded by the voter-approved Mental Health Services Act (Prop. 63). It is one of several Prevention and Early Intervention Initiatives implemented by the California Mental Health Services Authority (CalMHSA), an organization of county governments working to improve mental health outcomes for individuals, families and communities. For more information, visit http://www.calmhsa.org.