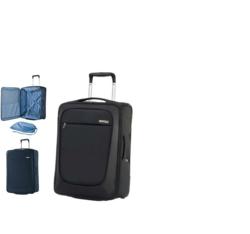 The simplicity of the design is practical and functional which are two criteria most travellers appreciate
Kent (PRWEB UK) 10 December 2012
The Samsonite B-Lite sizes 67cm and 75cm have a discount of 30% for a limited time only. These cases are recognised for their combined character of lightness and innovative structural design. Being so light in weight, the cases have the capability to achieve maximum capacity before reaching airline weight restrictions, which is a "thorn in the flesh" for many passengers. Many times there is so much space left in suitcases and it would have already reached the airline limit-this case takes away that incapacitation.
The B-lite comes in the classic Black and Blue that will never go out of style. The suitcase comes with a laundry bag to help separate dirty clothing from clean while in transit.
Paul Steadman, Managing Director of Luggage Superstore, comments that "This case is of classic style. It has proven to be a good investment for our customers and serves as a long term travelling companion."
The simplicity of the design is practical and functional which are two criteria most travellers appreciate. This suitcase would suit the seasoned traveller. The range offers three sizes of Samsonite B' Lite spinners, four sizes of Samsonite B-Lite upright cases, two of which are cabin size luggage and a Samsonite B-Lite Rolling Tote
If you like our posting, just drop us a line as we would love to hear from you.
Luggage Superstore's established site is in West Kingsdown, Kent. Their aim is providing competitive prices of the highest quality luggage and top calibre Customer Service for online luggage shopping.
Trina Chee-a-kwai
Luggage Superstore
01474854666
Email Information