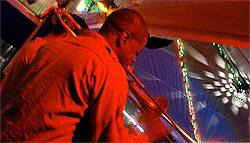 "Classic waterfront roadhouse with a large sun deck overlooking San Francisco bay. Delicious seafood, great cocktails and live music are staples of this landmark San Francisco location!" - Mac Liebert of Pier 23 Cafe
San Francisco, CA (PRWEB) December 08, 2012
Pier 23 Cafe, a San Francisco restaurant, bar and music venue, recently announced that it is now offering the popular restaurant as a venue for private and corporate holiday parties and events. The restaurant, which has been featured on the TV show Dinners, Drive-ins and Dives, has become a popular hotspot with delicious seafood, live music and a great happy hour.
"We offer our classic waterfront roadhouse with a large sun deck overlooking San Francisco bay," said Mac Liebert of Pier 23 Cafe. "Delicious seafood, great cocktails and live music are staples of this San Francisco landmark!"
For holiday parties and all special events, Pier 23 Cafe offers a special catering menu, which includes both cold and hot party platters that are perfect for a crowd. The Pier 23 Party Menu includes vegetarian party platters (Raw and Roasted Vegetable Platters, Cheese Quesadillas with Salsa & Guacamole, Classic Caesar Salad) Seafood Platters ( Prawn Cocktail, Smoked Salmon, Fish Tacos) as well as delicious meats (Chipotle BBQ Chicken Wings, Duck Poppers with Hot & Sour Raisin Chutney, House made Chorizo Firecrackers with Spicy Cheese Sauce).
This popular seafood restaurant, in San Francisco, also offers an exciting line up of live music during the week. Live music during the week is comprised of Ragtime, Classic Jazz, and Latin Jazz. On the weekends, the club ramps it up with live reggae, soul, funk and R & B. An institution of live music for over 25 years, Pier 23 has had the greats of Wynton Marsalis, Ed Kelly, Robert Stewart, John Cleary, Yellowman, Ivan Neville and Eric Lindell grace their stage. Come out and hear some world class music and enjoy a real San Francisco experience.
For complete information about Pier 23 Cafe or to schedule a reservation online, visit their website at http://www.pier23cafe.com.
About the company:
Pier 23 Cafe is a unique waterfront restaurant specializing in fresh seafood, live music and beautiful views of San Francisco bay. Family owned and operated for over 25 years, Pier 23 Cafe captures the heart and soul of a city obsessed with food. The large bay side patio allows patrons to soak up the California sun while enjoying creative dishes made from fresh, local ingredients and the entertainment of live bands. Night time outdoor dining in the heated tent is complimented by maritime activity and amazing views of Treasure Island and the Berkeley Hills. Come down and enjoy the locals' favorite seafood restaurant and experience some real waterfront history. For more information, please visit their website at http://www.pier23cafe.com.