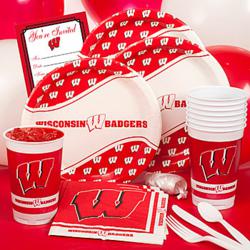 South Whitley, Indiana (PRWEB) December 11, 2012
After weeks of pre-game hype, football fans across the nation will gather around the television on January 1, 2013 to watch one of the largest collegiate football events of the year – the Rose Bowl. This year's match up pits PAC-12 conference winner Stanford against Big-10 conference winner Wisconsin. As television sets tune into the kickoff of the 99th annual match-up, at-home tailgate parties will commence.
"The Rose Bowl is one of the year's major television sporting events and makes a great excuse to throw a party," comments Keith Bansemer, Director of Internet Marketing at Shindigz, a leading supplier of party decorations. "There's the pageantry and tradition of the Rose Bowl parade, time to tailgate with party foods in the comfort of your home, and then hours of football action with two of the nation's top collegiate teams."
With the onslaught of social networking sites and mobile phones, getting the word out and inviting friends to a Rose Bowl party can be as easy as the click of a couple of buttons on Facebook, Twitter, and Party Crashers. Traditional invitations sent via snail mail will work just as well.
"Decorate your television party room with team colors. That's plenty of red and white for the Wisconsin Badgers and cardinal red and black for the Stanford Cardinal," notes Bansemer. Use party supplies and like football Mylar balloons, tailgate zone streamers, and green football field table covers with gridiron markings to decorate.
For tableware, specific collegiate team party supplies are often available including plates, cups, napkins, and party picks for hors d'oeuvres. Offer a wide selection of finger foods and drinks. Taco dip, chips and salsa, BBQ meatballs, cocktail wienies, veggie trays, and deli meat wraps are always fan favorites. Mixed drinks, non-alcoholic juices, and a few beer choices are classic football party drinks.
When food is ready to be served, host your own Tournament of Roses Parade around your party. Add some marching band music to match the actual Rose Bowl Parade in Pasadena, California. Order rose petals from a local floral shop and spread them around the party tables. Add a bouquet of roses as a food table centerpiece that can be given to the fan with the closest guess for which team will win the game and the total points of the final score.
Arrange plenty of seating throughout the game-viewing area. Like-minded football enthusiasts will arrive with their focus on one thing - the game. If possible, have several televisions set up to project the action and have the sound turned up loud. That way, guests won't miss a play, no matter what room of the house they're in.
For party favors, give fans for each team plenty of noise-makers. Cow bells, whistles, horns, and clappers make every score a party of its own.
About Shindigz
Since 1926, Shindigz has "made life more fun" for 22 million events through the manufacture and sale of personalized party supplies. It ships products from its facilities in South Whitley, Indiana across the United States, and around the world to 59 countries. With more than 34,000 products, the company provides customers with a complete party solution. For more information about Shindigz, go to http://www.Shindigz.com.