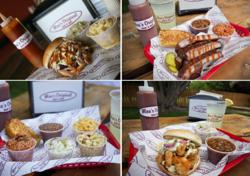 Mobile, Alabama (PRWEB) December 06, 2012
Moe's Original Bar B Que is pleased to announce its opening in late December at 701 Spring Hill Avenue in downtown Mobile. Located on the main Mardi Gras parade route, this 7400 square foot spot in the upper part of Dauphin will offer a hot nightlife scene. While the popular fast casual restaurant and catering company will feature award-winning cuisine, it will also be an entertainment venue that will showcase live music from larger, well-known musical acts as well as host events including birthday parties, reunions, corporate meetings, wedding parties, and more.
"When we saw this enormous space, it just screamed Moe's Original," said owner Mark White. "I feel we have captured my ultimate vision of expanding our concept by creating a cool entertainment destination that nicely complements our casual, family-friendly dining environment."
Located in an old Lincoln car dealership, the art deco building will be found by a large neon Moe's Original Bar B Que arrow sign. The totally renovated interior keeps with the rustic look of Moe's Original Bar B Que's brand with wooden beams across the ceiling, timber accents and exposed brick walls. The interior space is divided into two parts with the main dining area in the front with a large, full premium bar in the center surrounded by bar stools and multiple large flat screen TVs. The bars as well as the music stage were re-purposed out of the lanes from the old Florida Bowl. Behind the bar is a wall with two large doors and exposed windows across the high ceilings that infuse the space with light to create an al fresco feel when opened up into the larger rear space. The back left houses the kitchen while the stage is located in the right corner with an additional bar as this area will be primarily used for live music events and private parties.
Founded in Vail in 2001, Moe's Original Bar B Que has 20 other locations in AL, CO, GA, ME and NC. The popular fast casual restaurant features award-winning Alabama-style pulled pork, ribs, wings, turkey and chicken smoked over hardwood served with two unique sauces as well as southern favorites such as fried catfish and shrimp sandwiches. Opening for lunch and dinner from 11am daily, the new restaurant will also offer six traditional special sides and desserts made fresh daily. Large party takeout orders and full service catering for events will also be available.
For interviews, photos, press kit, menus or a complimentary media tasting, contact Lorrie Dixson of Eskimo Advertising at lorrie(at)eskimoadvertising(dot)com.