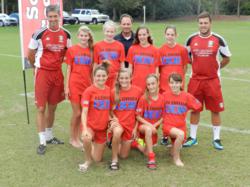 10 players from just one team make ODP following training with Massive Soccer Coaching
Palm City, Florida (PRWEB) December 07, 2012
Head Coach for the English Premier League's Premier Skills Initiative Fraser Foster is assisting the USA's Olympic Development Program.
Fraser of Massive Coaching has recently been selected to the coaching staff for US Youth Soccer Olympic Development Program (ODP) in Florida.
Fraser's appointment follows his role as Head Coach for the English Premier League's Premier Skills initiative that teaches coaches all over the world.
Over the past 20 years Fraser has developed the structure and delivery of many youth grass roots and elite programs in the UK, working at three professional soccer clubs and as a Regional Director for the Professional Footballers Association in England UK.
Fraser's work has been endorsed by leading names in Soccer from around the world and now, based in Florida as Director of Soccer development for Massive Soccer Coaching; he is committed to the development of the game at all levels here in Florida and across the USA. Fraser leads a team of qualified coaches including former Chelsea and West Bromwich Albion FC youth coach Arran Bayle, who joined Massive Soccer Coaching from Fraser's former club WBA.
"We have experience and expertise that we are finding players and parents are wanting more and more of here in the USA. We are keen to share that expertise and make it available across the USA through our camps, development programs and future excellence programs. Our long term strategy to player development and previous success in developing players in Europe allows us to help clubs put plans in place for their players of the future. It simply comes down to putting 'the best coaches' out on the fields with the kids, with a professionally structured plan to develop the children's abilities".
Along with coaching travel and recreational players at clubs up and down the Treasure Coast, Massive Soccer Coaching has begun to introduce innovative soccer programs including Beach Soccer, Indoor Futsal, beginners Saturday Soccer and Friday Night Skill Development Centre's, all to help the development of players within the game.
"Our programs are diversifying now that we are becoming established and in demand from more and more players and parents as they get to work with us. We are now building programs that not only provide diverse learning opportunities for the children but that also engage families and the local community. Our Beach Soccer Program, launched in Vero Beach, has provided an alternative way for the children to enjoy the game of soccer whilst at the same time getting lots of exercise in a fun environment".
The Vero Beach Soccer Program has been recognised and and supported by Lee Legler, President of Legler Orthodontists, who have sponsored the event. "Vero Beach Soccer is a great way in which we can support the children in our local community, in a fun healthy way. Seeing the kids running round on the beach having fun and learning on a Saturday morning is fantastic and something we were very keen to support."
Partnership working using soccer as a medium to bring people together is something Fraser is well experienced in following his days at English Premier League outfit, West Bromwich Albion. "Working with local businesses such as Legler Orthodontics, offers a continuous cycle for development. Businesses are keen to support their communities - their support creates more opportunities for children to develop - its a win-win situation all round for everyone involved".
Massive Soccer Coaching's expertise has delivered amazing results locally where they are based and not just at the beach. Over the past 12 months an astonishing 10 players from just one team have been identified and selected for Florida's Olympic Development Program. Their advanced training program and expertise means the future for developing soccer players in Florida looks very bright!
Massive Soccer Coaching is offering their Premier League Coaching experience to youth players across the USA. If your club, school or organization is interested in utilizing expertise from the team at Massive Soccer Coaching for a camp, training or development work you can contact Fraser direct on 772.341.5595 or via email at soccer@massivecreativeinc.com or through our Facebook page at http://www.facebook.com/Massivesoccer
More about Massive Soccer, Fraser Foster and his team of experienced coaches can be found at http://www.massivesoccercoaching.com