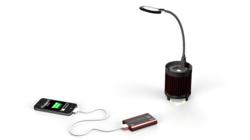 We're excited about the tPOD1 product launch. This innovative power generator is unlike any alternative energy device found anywhere in the world. We see great potential for this and other tPOD products to be developed. Craig Tremp, President and COO
Traverse City, Michigan (PRWEB) December 11, 2012
Production of Tellurex Corporation's newest power generator the tPOD1™ is underway with the first off-the-line devices having shipped to its Kickstarter.com supporters on Monday, December 10th.
The tPOD1™ alternative energy power generator produces electricity directly from the heat generated from a common tea candle. The thermoelectric device is about the size of a soup can and weighs approximately 11ounces. According to Rich Harmon, Program Manager, "the tPOD1™ can produce approximately 5.1 volts open circuit." Harmon added, "the tPOD1™ continuously powers on demand a bright LED lamp head for hours at a time and will charge a soon-to-be launched companion battery pack. The tPOD1™ charged battery pack will, in turn, provide a charge to cell phones and smartphones that include the iPhone, Android phone and other smartphones available in the market today." Orders for the tPOD1™ and the tPOD5™ can be placed by visiting the company's tPOD web site.
The first in a planned family of thermoelectric Power On Demand™" power generators, the tPOD1™ is ideal for off-grid campers and backpackers that need a stable, consistent light and power source when adventuring in the great outdoors. The product will also serve as a critical home and business power generator emergency kit when natural disasters such as Hurricane Sandy occur.
Tellurex Corporation is a Traverse City, Michigan-based company pioneering thermoelectric products and applications. The company develops its own products and also collaborates with others to advance its technology and product design into medical testing equipment, wireless sensors, thermally controlled enclosures and many other applications in both power generation and thermal management.