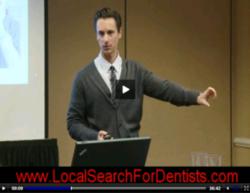 Graig Presti, CEO of LocalSearchForDentists.com, is helping dentists all over the world gain dominance in their local search market
chicago illinois (PRWEB) December 06, 2012
Using a new online marketing system developed through years of study and development, Graig Presti, CEO of LocalSearchForDentists.com, is helping dentists all over the world gain dominance in their local search market and consequently gain more business. Presti's system combines all of the most important features of search engine optimization (SEO), local search management through business listings and patient reviews and YouTube videos to produce top search listings for hundreds of dental practices.
While many dental practices still use more traditional advertising methods such as radio, newspaper and direct mail, the majority of consumers still research services online before finalizing their purchase decision. In fact, statistics show that approximately 85% of households do some sort of search for a product or service in their local area on a daily basis. Most of the time, potential dental patients still research a particular doctor or practice and read other consumer reviews online before scheduling an appointment, even if they heard about the practice through traditional advertising.
"As more consumers are turning to the internet to make decisions about dental care and services, dental practices need to have a dominant presence where people are looking and buying," said Presti. "The evidence is clear that the internet is now local, and a successful online marketing strategy is vital to the success of any dental practice."
When it comes to having an online presence, most dentists do have a website, but fail to enhance their positive reputation through other various third party patient review sites, like Google+ Local and YouTube. Because of this, many dental practices consistently lose money to their competition. After completing his MBA, Presti spent years studying other internet marketing experts and developing his comprehensive online strategy for dentists.
Clients who have provided LocalSearchForDentists.com reviews state that they have utmost satisfaction in Presti's strategy and the influx of new patients that it has provided for their practices.
"What Graig and LocalSearchForDentists.com have done for my practice is simply amazing," said Dr. Eric Compton. "We now have four top listings for relatively competitive keywords in our area, and have a competitive solo listing for the most profitable niche in our business. Graig and his team understand the rules and are getting it done!"
As a leading expert in the internet marketing industry, Presti has frequently been featured as speaker at dental conferences and various other venues. His self-authored reports are provided to clients to help them better understand the importance of local search and how to achieve success with it. Presti is also being featured as a leading Champion of Health, Wealth and Success in Newsweek Magazine.
For more information about Graig Presti and to read more LocalSearchForDentists.com reviews, please visit http://www.LocalSearchForDentists.com and http://www.youtube.com/watch?v=j5yH3Er0jqc.