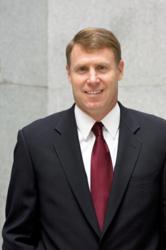 I look forward to providing guidance and support as Retrofit positively impacts the lives of employees and corporate bottom lines. - Matt Ferguson
Chicago, IL (PRWEB) December 06, 2012
Retrofit Inc., the expert-led, data-driven weight loss program for busy professionals, has appointed Matt Ferguson, CEO of CareerBuilder, to its Board of Directors.
"It is a privilege to announce the addition of Matt Ferguson to the Board," said Jeff Hyman, CEO of Retrofit. "He brings a wealth of strategic and tactical leadership experience that will position Retrofit to further meet industry demands, client needs, and corporate growth objectives."
Retrofit delivers unrivaled results in the weight loss industry, with more than 90% of its clients losing weight. Ferguson will be instrumental in leading Retrofit as it continues to reduce healthcare costs for businesses nationwide.
The innovative weight loss company recently raised $8 million in a Series A financing round led by Draper Fisher Jurvetson (DFJ). The turnkey approach to weight loss is designed to offer private lessons in nutrition, fitness and mindset to executives and corporate employees. The Retrofit program includes one year of data tracking, accountability and support. Retrofit clients receive wireless tracking devices, along with private lessons from a registered dietitian, exercise physiologist, and behavior coach via Skype™ videoconferencing. Current business clients include such companies as Salesforce.com, Dolby Laboratories, Oreck, and Sagent Pharmaceuticals.
"I have witnessed the growth of Retrofit as it aims to lead the weight loss industry in combating America's obesity epidemic in the workplace," said Ferguson. "I look forward to providing guidance and support as Retrofit positively impacts the lives of employees and corporate bottom lines."
"Our role is to help support the company and ensure Retrofit is best positioned to meet its goals," said Mohanjit Jolly, DFJ Managing Director. "Matt brings strength in the enterprise industry that's incredibly valuable to our team. I'm delighted with the collective experience and background on the board that will guide Retrofit into its next phase of growth."
Ferguson is the CEO for CareerBuilder, the global leader in human capital solutions. Through constant innovation, unparalleled technology, and customer care delivered at every touch point, CareerBuilder helps match the right talent with the right opportunity. Under his direction, CareerBuilder is quickly expanding its global footprint with a presence in more than 60 markets.
"The formation of the Retrofit Board of Directors is key to our success," said Hyman. "Matt Ferguson brings a wealth of knowledge on successfully scaling a technology-enabled services business. His experience in outpacing competitors in traffic, revenue, and technology innovation will be a great asset to Retrofit."
About Matt Ferguson
Ferguson took CareerBuilder to the No. 1 position in the online recruitment industry within five years. Focused on empowering employees and creating a culture of exceptional customer service, Ferguson has transformed CareerBuilder into a world-class organization that has revolutionized recruitment and job search. He set into motion an evolution that has taken CareerBuilder beyond being the largest job board in the nation to a company that offers a wide range of talent intelligence and consulting services. His ongoing commitment to delivering the greatest ROI to clients has driven dynamic growth that sets the bar for the industry.
Working with the nation's top employers on a daily basis, Ferguson is often called upon to provide insights on emerging trends, the impact of the economy on the job outlook, and advice for job seekers. He has appeared on CNBC Squawk Box, ABC World News, CBS Evening News, Bloomberg TV, the TODAY Show, FOX Your World with Neil Cavuto, Nightly Business Report and CNN Money, among other media outlets. In 2004, he was named to Crain's Chicago Business "40 Under 40" and ranked in the top ten list of Glassdoor.com's "Highest Rated CEOs." In 2007, Ferguson was recognized as the Staffing Professional of the Year by the Staffing Management Association of Greater Chicago, formerly EMA Chicago.
Ferguson first joined the company following CareerBuilder's acquisition of Headhunter.net, where he had been serving as senior vice president of business development. Prior to that, Ferguson developed strategic partnerships for DigitalWork.com. He also started two entrepreneurial ventures and practiced law at Baker & McKenzie. Ferguson has a B.S. from Indiana University and holds an M.B.A. from the University of Chicago and a law degree from Northwestern University.
About Retrofit
Retrofit, the expert-led, data-driven weight loss program for busy professionals, is designed to deliver lasting results. Its innovative year-long program includes wireless monitoring of a client's weight, activity, and sleep, as well as private lessons with a registered dietitian, exercise physiologist, and behavior coach. Retrofit can be found on the Web at RetrofitMe.com and by calling (855) 4-RETROFIT. Follow the company on Facebook and Twitter @retrofitme.