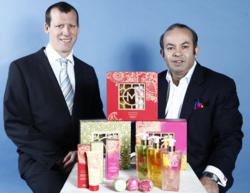 London, UK (PRWEB UK) 10 December 2012
RDUK has launched its much anticipated Monsoon Beauty range of natural products in the UK & Ireland this autumn, debuting the range in 34 stores throughout the UK, including prestigious sites such as Westfield London, Bluewater, as well as its Oxford Street flagship store. The products will also be stocked in selected department stores and retailers from January 2013. Having previously successfully launched brands such as Burt's Bees, Linden Leaves, Jigsaw Organics, EcoLips and Urban Spa into the UK market with distribution in leading retailers such as Boots, Superdrug, John Lewis, House of Fraser, Debenhams, Selfridges, Harvey Nichols and Harrods. RDUK has harnessed its knowledge of natural and organic products in the creation of Monsoon Beauty.
Never compromising on quality RDUK's principles are at the heart of the Monsoon Beauty range, all products are made in Britain and free from Parabens, Sulphates and animal derived ingredients. Extensive research goes into the formulation of the products, working closely with leading cosmetic scientists, ayurvedic chemists, formulators and perfumers to create not only beautifully fragrant products but products that are formulated to really work and enhance and enrich the skin, body and environment. RDUK globally sources the finest ingredients, ensuring that they are harvested and produced responsibly both for the environment and the people involved. RDUK is proud to support 'clean' farming methods by using organic and naturally harvested products where possible.
Suhail Hanif, CEO and William Pedder, COO state 2012 has been a solid year of growth for RDUK, as well as creating the ayurvedic inspired natural Monsoon Beauty range, RDUK secured global licensing rights for a premium British fashion brand. Their sports licensing division 'Boot Camp Brands' have launched a premium range of toiletries and fragrance launched in association with a selection of premiership clubs such as Manchester City FC, Everton, Newcastle FC, Tottenham Hotspurs, West Ham United and Sunderland. The exclusive license or private label arrangements have allowed them to produce, market and sell the high quality toiletries with the clubs brand identities. This has opened up new channels for their partners including multiple retailers, supermarkets, pharmacies, online as well as forecourt retailers.
2013 will see RDUK expand the Monsoon Beauty range with International distribution, launch an exciting brand as well as launching the new and highly anticipated 'This Cleans' natural and environmentally friendly yet affordable cleaning range.