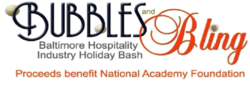 Salem, MA (PRWEB) December 08, 2012
Powell & Mahoney, Ltd. will serve up their all-natural, gluten-free cocktails at the 2012 Bubbles and Bling Baltimore Hospitality Industry Holiday Bash on December 10, 2012 from 5:30-8:30 PM at the Sheraton Baltimore City Center Hotel. Proceeds of the event will benefit City Schools' National Academy Foundation High School (NAF). Cocktails will be served by Patti Neumann, CEO of CITYPEEK.com and can be found at the CITYPEEK Holiday Bash section.
Guests will be treated to holiday classics such as, Old Ballycastle Ginger, Bloody Mary, Pomegranate, Low-Cal Margarita, and Peach Bellini. Powell & Mahoney, Ltd. is proud to support the NAF which prepares students for careers in hospitality and tourism, finance, information technology, engineering and law through work-based curriculum.
About Powell & Mahoney:
Two beverage aficionados, Mark Mahoney, Founder and CEO of Thirsty Ventures, Inc. and former EVP of Stirrings, Brian Powell, blended their vision and created Powell & Mahoney, Ltd. Using only the finest ingredients and essential oils, they have successfully produced a full line of classic American cocktails. Powell & Mahoney mixers are produced in small, craft-batched kettles, resulting in thoughtfully blended ingredients and the absolute highest quality standards in the industry.