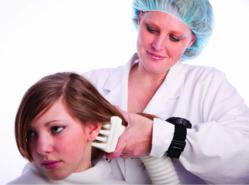 Now, one single 30-minute LouseBuster™ treatment is all that is needed to eradicate head lice
Huntington, NY (PRWEB) December 08, 2012
Melissa Levin, a nurse practitioner and owner of Long Island's Lice Tamers, is bringing a new FDA-Cleared device to her head lice treatment center—The LouseBuster™
Levin, and her trained staff recently became certified to administer the LouseBuster™ treatment. The device significantly cuts down treatment time, without using chemicals.
Clinical studies have shown that the treatment, which uses controlled heated air delivered by certified operators, provides a safe, effective 30-minute treatment that kills all stages of head lice—including the eggs—through rapid dehydration. The LouseBuster™ device is intended for use to kill lice and nits in the head hair of adults and children four years of age and older.
Head lice can be extremely difficult to get rid of. Over the years they have developed a resistance to most medicated shampoos. After two shampoo treatments, 10 days apart, head lice and their eggs can still be alive. Combing can take weeks. The LouseBuster™ device makes it possible to now eradicate head lice in just 30 minutes.
A nurse practitioner and mom of three, Levin prides herself on being holistic and using medications sparingly. The device safely and effectively kills head lice and their eggs without using any harmful pesticides or chemicals.
Levin wants everyone to know that having head lice has nothing to do with being dirty. She spends much of her time educating her clients and the community that getting head lice is not about poor hygiene. "Head lice is contagious much like the common cold. If you sit next to someone with a cold you may catch it - it's the same with head lice."
"We are very excited to be able to offer this new treatment option to our clients." LouseBuster™ treatments are delivered by certified operators at Lice Tamers 7 days a week. For more information you may contact Lice Tamers at 877-237-LICE (5423) or visit their website at http:http://www.licetamers.com