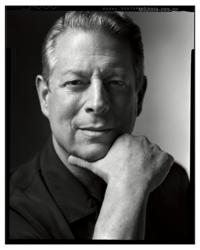 St. Louis, MO (PRWEB) December 07, 2012
The St. Louis County Library Foundation's 'Buzz' Westfall Favorite Author Series kicks off the 10th Anniversary season with a special evening with former vice president Al Gore for a discussion of his new book "The Future: Six Drivers of Global Change."
The event will take place at Library Headquarters (1640 S. Lindbergh Blvd.) on Saturday, February 9 at 7:00 p.m. Ticket packages are $35 (admits ONE and includes one pre-signed copy of "The Future") or $50 (admits TWO and includes one pre-signed copy of "The Future"). Tickets can be purchased through Brown Paper Tickets or at St. Louis County Library Headquarters starting at 9:00 am on Wednesday, December 12.
The format of the evening will be a presentation by Mr. Gore followed by questions from the audience moderated by St. Louis Public Radio host Don Marsh. There will not be a book signing following the presentation. Additional pre-signed books will be available for purchase from Left Bank Books.
From the former vice president and #1 bestselling author comes a frank and clear-eyed assessment of the emerging forces that are reshaping our world and will continue to do so in the decades to come. Ours is a time of revolutionary change that has no precedent in history. With the same passion he brought to the challenge of climate change, and with his decades of experience on the front lines of global policy, Al Gore surveys our planet's beclouded horizon and offers a sober, learned, and ultimately hopeful forecast.
From his earliest days in public life, Al Gore has been warning us of the promise and peril of emergent truths—no matter how "inconvenient" they may seem to be. As absorbing as it is visionary, "The Future" is a map of the world to come, from a man who has looked ahead before and been proven all too right.
Former vice president Al Gore currently serves as chairman of The Climate Reality Project, a nonprofit devoted to solving the climate crisis. Gore was elected to the U.S. House of Representatives four times and the U.S. Senate twice. He served eight years as vice president. He is the author of four bestselling books, including "An Inconvenient Truth." He is a co-recipient of the 2007 Nobel Peace Prize.
The program with Al Gore is a St. Louis County Library 'Buzz' Westfall Favorite Author Series presentation. Celebrating its 10th anniversary in 2013, the Westfall series features authors of politics, history, and sports. The series is co-sponsored by Jack Dubinsky and Sons; McMahon Berger; Sachs Properties; Brown Smith Wallace LLC; Royal Banks of Missouri; St. Louis Business Journal; Midwest Library Service; The Booksource; Ivey-Selkirk Auctioneers; S.M. Wilson & Co.; Arthur J. Gallagher and Co.; and Stifel, Nicolaus.