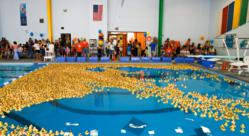 "This will be a fun winter's day ideal for kids and families."
-Beth Schrader
Howell, MI (PRWEB) December 07, 2012
"If you love rubber duckies or swimming in January, you'll love the Howell Area Aquatic Center's National Rubber Ducky Day Quack-Tacular!", says Beth Schrader from Howell Parks & Rec. Grab a favorite duck and head on over to the Howell Aquatic Center for a fun filled event celebrated on the day rubber duckies were invented. Come swim with over 2,000 rubber ducks floating all over the pool! All rubber duckies donated by Brighton's PartySuppliesDelivered.com. This will be a fun winter's day ideal for kids and families.
Sunday, January 13 2013
1:00pm-3:00pm
Howell Aquatic Center
1224 W Grand River
Howell, MI 48843
$3/person in advance
$4/person day of event
To register, call the Howell Area Parks & Rec Authority at (517) 546-0693 Ext 0 or visit HowellRecreation.org.
About PartySuppliesDelivered.com:
PartySuppliesDelivered.com is part of Mattress USA which operates a portfolio of home furnishing websites, with flagship brands of US-Mattress.com, FurnitureCrate.com, DayBedDeals.com, CarolinaRustica.com, PartySuppliesDelivered.com, and LinensForLiving.com. Based in Brighton, MI and Founded in 2001, US-Mattress.com is the leading online mattress retailer and consistently ranked in the Internet Retailer "Top 500" list of largest e-commerce sites. Mattress USA employs over 60 people in three locations in Michigan, including stores in Commerce and Plymouth.
About Howell Area Parks & Recreation Authority:
The Howell Area Parks & Recreation Authority is committed to bringing communities together to enrich lives by promoting active and healthy lifestyles. The Howell Area Parks & Recreation Authority is ready to serve with a seasonal lineup of leisure time opportunities. The staff has planned a wide variety of programs and services for ALL ages and abilities, so everyone can enjoy the endless benefits that they have to offer. From improving health and quality of life, to improving family connections and community pride, to enhancing community development, the Howell Area Parks & Recreation Authority is more than just fun and games........everyone benefits!