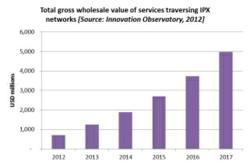 Migration to all-IP networks and LTE, and the need for interoperability at multiple levels to support innovative new services at optimal costs will drive adoption of IPX
St Ives, Cambridgeshire, UK (PRWEB UK) 8 December 2012
As much as 25% of the wholesale value of traffic flowing over IPX networks will be generated from new and value-added services; LTE interoperability, roaming and voice services will also be strong drivers of growth
The gross value of all international wholesale telecoms services transported by new IP eXchange networks (IPX) will rise from around 1.4% of the international wholesale business today to USD5 billion in 2017, according to a new report by telecoms analyst house Innovation Observatory. IPX providers will capture only a proportion of this as net retained fees, but it still reflects tremendous growth potential.
Simon Sherrington, lead author of "Global IP Exchange: Current Status and Future Prospects for IPX" points out that there are strong reasons why IPX networks will become significant over the next five years: "Migration to all-IP networks and LTE, and the need for interoperability at multiple levels to support innovative new services at optimal costs will drive adoption of IPX," he says.
However, Sherrington cautions that significant barriers remain to be overcome if IPX providers are to achieve succeed in the IPX market: "We have identified nine barriers to IPX adoption during our research – among them a lack of critical mass, and of pricing clarity," he says, adding that "there is a significant risk to established international carriers from hub-based providers with less to lose from pricing innovation."
"Previous studies have run wide ranging web surveys to show a widespread willingness to adopt IPX for voice and in particular LTE. We wanted to use in-depth interviews with buyers in order to understand not only their current plans, but also their likely future requirements. This has enabled us to analyse how IPX providers can open up this market, and how they can drive revenue growth", explains report co-author Terence Prospero. "The immediate task for IPX providers is ensuring that they can deliver voice, and LTE roaming services, in a manner that is seamless and transparent both to operators and to their end-users," he adds.
The report finds that IPX providers are focused on this task, and wholesale buyers generally indicate their willingness to buy when the time is right. It concludes that beyond voice and LTE roaming, there is tremendous potential to generate revenues from new types of services, and to deliver multi-billion dollar revenue streams if IPX providers make it easy for fixed and mobile service providers, device vendors, content and application providers to do business with them.
Innovation Observatory's new 125-page report – available now – is based on detailed interviews with wholesale service buyers from all over the world, and with all major providers of IPX services, and presents a detailed picture of the current and future state of IPX.
As well as detailed analysis of the drivers of and barriers to adoption of IPX, service providers are profiled in depth and their offers compared. The value of the market for IPX voice, data, rich media / enhanced voice, and value-added services is forecast for 2012–2017; traffic estimates are also provided.
The Innovation Observatory report costs GBP1500 plus applicable VAT.
-Ends-
Note to editors: Innovation Observatory can provide a more detailed feature on this story on request.
For more information and interviews contact: Simon Sherrington on +44 7917 541246 or Danny Dicks on +44 7917 533139