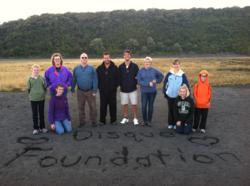 Henderson, NV (PRWEB) December 06, 2012
John Lustig is the Co-Founder of National Health Care Provider Solutions (NHCPS) and is a member of the Board of Trustees for the Disque Foundation. NHCPS is a provider of online ACLS, PALS and BLS certification and re-certification training for health care professionals. Lustig founded the company alongside Dr. Karl "Fritz" Disque. The Disque Foundation has adopted a mission to further health care and education to developing regions across the globe.
Though he has already dedicated a large portion of his life to various philanthropic ventures, Lustig is now exploring volunteer efforts primarily through technophilanthropy. As a board member for the Disque Foundation, he plays a major role in all activities coordinated and sponsored by the foundation. In previous years, members of the foundation traveled to Haiti and Ethiopia for relief efforts, trips Lustig helped organize.
This week marks another personal contribution with the Disque Foundation, when he travels with other members of the Foundation, and volunteers from Cross-Cultural Solutions, to Costa Rica. While in Costa Rica, Lustig will assist Dr. Disque in the foundation's efforts to provide cardiopulmonary resuscitation (CPR) and basic life support (BLS) training for local health care providers. This training will help members of the community recognize signs of cardiovascular disease (CVD) and provide proper CPR and BLS to reduce the possible outcomes resulting from CVD.
As a leading member of the Disque Foundation, Lustig continues to seek out new contribution efforts that will allow the foundation to expand its reach.
The opportunities for philanthropy are virtually boundless, with opportunities ranging from volunteering at local shelters to large foundations tirelessly seeking advancements in medical research. The current age of technological capabilities has given way for a new mold of volunteers: technophilanthropists. Technophilanthropists are entrepreneurs who have made their wealth through technology-based companies, and then make conscious efforts to redistribute this wealth through an assortment of causes. John Lustig is one such technophilanthropist.
About National Health Care Provider Solutions (NHCPS)
NHCPS is a provider of online ACLS, PALS and BLS certification and re-certification training. The course curriculum is 100% online, which provides a convenient, alternative to the onsite approach to the certification instruction. This accommodates the schedules of busy medical personnel and certifies thousands of health care professionals annually.
Copyright © 2012 National Health Care Provider Solutions. All rights reserved.