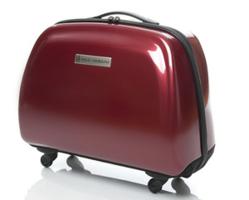 There's been little innovation in travel gear since wheels were added 25 years ago. We saw an opportunity to solve that and customers are responding well
New York, New York (PRWEB) December 07, 2012
Max Mirani, which makes the iconic MOVE Mobile Closet suitcase and other space-saving carry on travel bags, has been selected to be featured at the 2012 FashInvest conference in New York City on December 11 at the Fashion Institute of Technology.
Max Mirani's founder and CEO, Michael Bettua, will be presenting his company and business model at the fashion finance event which has become the premier capital raising conference for fast-growth emerging companies in the industry. This year's conference will again feature Daymond John, star of the ABC hit show "Shark Tank,", as moderator.
Of his pending appearance, Bettua said, "We are excited to be part of the 3rd annual FashInvest conference. Coming to this industry from technology start-ups a few years ago, where the early-stage capital infrastructure is strong and the startup culture is nurtured, it was surprising to see such a platform lacking for entrepreneurs in this industry. FashInvest has filled that void."
Since launching in September 2011, Max Mirani has grown quickly and now sells its space-saving luggage products in more than 45 specialty shops in North America, over 20 shops in Europe, and through http://www.maxmirani.com. The company has been featured in many major media including NBC, FOX, the New York Times and Forbes, and at celebrity events including The Academy Awards and The Super Bowl.
"With living space decreasing and airline luggage fees increasing, people need more efficient ways to live and travel," says Bettua. "There's been little innovation in travel gear since wheels were added 25 years ago. We saw an opportunity to solve that and customers are responding well."
FashInvest is an important organization for businesses like Max Mirani, as it puts emerging companies in the Fashion, Fashion Tech, Retail, and Branded Goods industries together with financing strategies and thought leadership from business experts all over the world.
About Max Mirani
Max Mirani started a revolution in travel goods with the introduction of SmartSpace, a sleek and innovative line of space-saving products that make traveling with and storing luggage much easier. Celebrities including singer/actor Snoop Dogg, actress and filmmaker Tiffy Diamond, and Jeremy McCoy, bass player for The Fray, have been seen sporting Max Mirani's travel bags. Fodor's Travel calls the company's MOVE Mobile Closet "a magical solution to a common travel question." Emmy-winning news anchor Pat O'Brien says "It's the best thing that's ever happened to travel." For more information about Max Mirani and its products, visit http://www.MaxMirani.com.