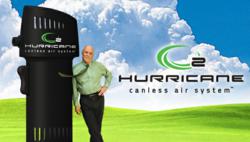 "I found it to be awesome. I give it two thumbs up." -Mike Butler, FOX News Engineer.
Scottsdale, AZ (PRWEB) December 10, 2012
When John Scherer launched his new 02 Hurricane Canless Air System, designed as an alternative to so-called canned air dusters he had one question:
"Would people like it?" It didn't take Scherer and his team to find out.
"Our sales have been terrific," says Scherer "Customer reaction has been very positive. But it's the reviews by independent writers and bloggers that prove both to us and consumers we have a winner in the 02 Hurricane."
Here's what reviewers are saying:
"Canned Air is Money down the Drain"-GeakBeatTV
"It's a blast"-MarketWatch.com
"Tucson Inventor makes Uncanny Cleaning Tool"-Arizona Daily Star
"Air Duster a Safe, Eco-Friendly Alternative to Canned Air"-AZFamily.com
"Rechargeable Canless Air System Replaces Toxic Dust Remover"-EarthTechling
"There's no better way to rid your keyboard of the disgusting horrors lurking between every key than with a blast of clean air"-GIZMODO
"I would recommend the 02 Hurricane Canless Air System to anyone needing to keep their electronics clean"-Gaming Shogun.
You can read and watch the full reviews here.
What sets the 02 Hurricane apart from canned air dusters is that it simply uses the air we breathe. It draws air from the room, then blasts it out at over 200 MPH. Powerful enough for just about any cleaning and dusting needs for computers, electronics and anywhere dust gathers at work or home.
"People think that canned air is just that air,' Scherer says. "It really a dangerous, explosive and even deadly mix of liquids and gasses."
Another advantage Scherer is the 02 Hurricane saves you money. Scherer says, "The unit is rechargeable, just like your cell phone. Just one unit is equal to a thousand cans. Not only are you cleaning green, you're saving green at the same time."
Another issue with canned air dusters is the EPA classifies them as hazardous waste. "Over 30 million cans a year are produced every year," Scherer says. "Far to many of them end up in our landfills. They contain residual amounts of dangerous liquids and gasses which harm the earth, the air and our vital water resources."
In a report, the United States Department of Energy says "Using canned air for non-programmatic purposes, such as keyboard cleanings, is problematic because EPA classifies canned air as a cryogen and an explosive. As a result, containers must be disposed as a hazardous waste under Resource Recovery and Conservation Act (RCRA) and Department of Transportation (DOT) requirements."
The 02 Hurricane is proving itself as a true and much needed alternative to canned air dusters. It's manufactured in the USA at the company's plant in Tucson, Arizona. Learn all about the 02 Hurricane at http://www.canless air.com.
Media Contact or to arrange a review copy:
Brian Olson
Conversation Starters Public Relations
brian.olson(at)starttheconversations(dot)com
303-726-4044