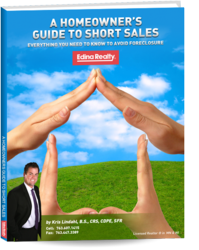 I have access to exclusive technology for buyers and sellers that will find or advertise their homes where none others can be found or sold
Blaine, MN (PRWEB) December 07, 2012
The experienced real estate agent Kris Lindahl has helped many people get their short sale closed because of his extensive experience with such a wide variety of different banks, mortgage companies, and financial institutions.
Kris Lindahl understands that the world has changed and the old ways of reaching people with information are not as effective as using the technology that is available. "Because people are using technology to find the information they are looking for I have spent months creating websites, eBooks, and videos so it would be easy for people to get the information they need to determine if the process is a viable option," Kris Lindahl, the #1 Edina Realty Short Sale Agent, explains.
"I had to find a way to reach as many people as possible with the information because many people will not be able to attend the seminars I hold or do not have access to the information they are searching for about the short selling process," explains Kris Lindahl.
"I am publishing an eBook to help people with the process titled "A Homeowners Guide To Short Sales" which can be downloaded complimentary at the HomeOwnersGuideToShortSales.com website," Kris Lindahl, the experienced real estate agent explains. Kris Lindahl also created a video series on the process that is readily available 24/7.
"The short sale process is very complex and varies from bank to bank and investor to investor," explains Kris Lindahl. Kris Lindahl says, "My experience with all of the different financial institutions has allowed me to help over 240 homeowners with the process so far."
Kris Lindahl has gathered some very experienced, hard working full-time Realtors that hold designations including Certified Distressed Property Experts (CDPE), Short Sale and Foreclosure Resources (SFR), and Council of Residential Specialists (CRS). The Kris Lindahl Team specializes in working with general residential real estate, first-time home buyers, and distressed property sales.
"I'm somewhat of an Internet Marketing Specialist," Kris Lindahl says, and continues, "I have access to technological tools that no other agents do that will speed up and smooth out the process. With me as your agent I can guarantee a fast and easy process."
Call the experienced real estate Agent Kris Lindahl at (763) 447 3925. Visit the new Minnesota Short Sale Calculator website to determine short sale eligibility. Check out Kris Lindahl's website for information and personalized help.