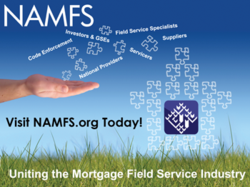 Stow, OH (PRWEB) December 31, 2012
The National Association of Mortage Field Services (NAMFS) will launch a new benefit program to its members in 2013. This program will continue to expand the Associations' savings and benefits offered to their members and allow them to recoup their membership dues throughout each year. The Association expanded its membership levels in past years to include an associate membership option for companies that supply the industry with the required products and tools necessary. NAMFS enjoys many long standing relationships with companies that offer special pricing in the areas of software solutions, insurance and general industry supplies.
The new Member 2 Member Benefit Program will allow all NAMFS members to receive a discount on their first order in 2013 with four of the leading industry suppliers and NAMFS associate members including Bargain Locks, Carrdan, MFS Supply, and PP Materials. NAMFS will provide a program of special discounts throughout the year with different associate member companies for NAMFS members to participate in.
About NAMFS
The National Association of Mortgage Field Services (NAMFS) is the premier trade association for the mortgage field service industry. We are dedicated to working with all entities of the industry from the Government Agencies and investors that set policy to the contractors and inspectors that perform the work.