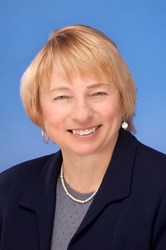 Augusta, ME (PRWEB) December 08, 2012
This week, Preti Flaherty attorney Janet T. Mills was elected to return to office as Maine's next Attorney General. Janet previously served as Attorney General from 2009 to 2011, the first woman ever elected to that office.
Janet was elected by a Joint Convention of the Maine Legislature and will be sworn into office by the Governor on January 7, 2013. She joined Preti Flaherty in early 2011 and has practiced in the firm's Augusta office as part of its Litigation Practice Group.
"It has been wonderful to have Janet as a colleague here at the firm, but we are thrilled to be able to congratulate her on her return to service as Attorney General," said Jon Piper, Managing Partner of Preti Flaherty.
Prior to her first term as Attorney General, Janet served three terms in the Maine House of Representatives and maintained a private legal practice. Before her election to the Legislature, Janet served Androscoggin, Franklin and Somerset Counties as the first woman District Attorney in New England.
About Preti Flaherty
Preti Flaherty has offices in Portland and Augusta, ME, Concord, NH, Boston, MA, Washington, DC, Bedminster, NJ and Salem, MA. With more than 100 attorneys, the firm counsels clients in the areas of business law, energy, environmental, estate planning, government affairs, health care, intellectual property, labor and employment, litigation, technology and telecommunications.