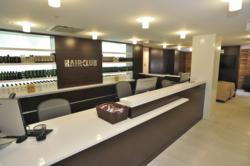 Manhattan's beautifully designed reception area.
Boca Raton, FL (PRWEB) December 07, 2012
HAIR CLUB® returns to its roots, celebrates 100th center opening with NEW MANHATTAN RELOCATION
Hair Restoration Industry Leader, Founded in New York City, Marks Major Business Milestone with New, State-of-the-Art Center
Hair Club® celebrates the opening of its 100th center, with a new location in New York City, marking a major business milestone for the hair restoration industry leader.
Founded in 1976 by entrepreneur Sy Sperling, the company started as a single office in Manhattan exclusively serving male clientele with its exclusive and proprietary, non-surgical hair restoration procedure. Today, the company offers all proven hair restoration solutions for men, women, and children, throughout the U.S., Puerto Rico, and Canada, having helped more than 500,000 clients regain their hair and self-confidence.
Today a household name, Hair Club® became widely known in the early 1980s as a result of Sperling's classic infomercials and unforgettable tagline: "I'm not only the Hair Club president, I'm also a client." Since then, the company has significantly expanded its reach and scope of services, now established as the largest industry provider of all proven hair restoration solutions.
"Since its founding, Hair Club® has made a number of exciting and impactful changes, such as introducing services for women, offering pro-bono treatment for children suffering from hair loss for medical reasons, and the founding of Hair Club Medical Group® providing leading surgical options for patients," states Hair Club® CEO Darryl Porter. "While the company has evolved over the years, as we celebrate our 100th center, we remain proudly committed to Hair Club's original mission of helping clients combat their hair loss to improve their overall self-image and confidence."
The newly relocated center measures 16,400 sq. ft. and occupies the 5th and 6th floors of 551 Madison Avenue. The center features 25 styling rooms with a team of more than 50 trained stylists and consultants. At the new location, Hair Club® will offer its hair restoration treatments and therapies to more than 1,500 New York-area clients, including EXT® Extreme Hair Therapy, Laser Therapy, the Bio-Matrix Strand-by-Strand® Process, and surgical hair transplantation.
"The design and construction of Hair Club's new location incorporates a number of green and environmentally-sustainable elements, including LED lighting technology, Energy Star®-rated HVAC systems and equipment, and recycled products, as well as low-VOC paint, "states Hair Club Construction Project Manager Lawrence Buck.
For further information on Hair Club® or to connect with a restoration specialist, please visit http://www.hairclub.com
ABOUT HAIR CLUB®:
Founded in 1976 by Sy Sperling, Hair Club® is the leader in hair restoration and the largest company in the industry offering all proven hair loss solutions. Hair Club® has granted more than 500,000 men, women, and children an experience that truly changed their lives. Today, Hair Club has 100 locations throughout the United States, Canada, and Puerto Rico and is a wholly-owned subsidiary of Minneapolis-based Regis Corp, the largest hair salon operator in the world. Regis brands include: Jean-Louis David, Vidal Sassoon, Supercuts, Mastercuts and many more.
ABOUT HAIR CLUB MEDICAL GROUP®:
Hair Club Medical Group® is a network of hair transplant physicians throughout more than 25 states and provinces whose practices are managed by Hair Club®. Only an experienced physician can determine if a patient is a candidate for a hair transplant procedure.