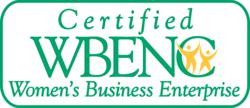 Las Colinas, Texas (PRWEB) December 11, 2012
NTC Texas, a payment processor representing revenue-cycle solutions throughout the United States received national certification as a Women's Business Enterprise by the Women's Business Council Southwest (WBCS), a regional certifying partner of the Women's Business Enterprise National Council (WBENC).
WBENC's national standard of certification implemented by the WBCS is a meticulous process including an in-depth review of the business and a site inspection. The certification process is designed to confirm the business is at least 51% owned, operated and controlled by a woman or women.
"We take great pride in being a woman owned and led organization and are honored to be certified by such a great organization promoting growth and opportunities for women-owned businesses," said Linda Borek, President and CEO of NTC Texas.
By including women-owned businesses among their vendors, corporations, and government agencies demonstrate their commitment to fostering diversity and the continued development of their supplier/vendor diversity programs.
About NTC Texas
Established in 2004, NTC Texas located in Las Colinas, Texas is a merchant service provider representing Elavon Global Acquiring Solutions throughout the United States and Canada. As a team, NTC Texas and Elavon deliver the most powerful transaction processing package in the industry with a proprietary network, fully redundant systems, superior customer service and a broad spectrum of products. Our credit card processing and other merchant services help increase revenues and decrease costs for businesses in healthcare, manufacturing, and many other industries.
About WBENC
The Women's Business Enterprise National Council is the nation's largest third party certifier of businesses owned and operated by women in the United States. WBENC is a resource for the more than 700 US companies and government agencies that rely on WBENC's certification as an integral part of their supplier diversity programs.