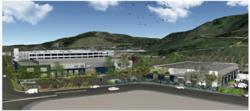 Los Angeles, CA (PRWEB) December 06, 2012
Close of Construction Loan Launches Major Development including New Five-Story Parking Structure by Los-Angeles-Based Real Estate Investment Firm
Hackman Capital Partners, LLC, confirmed today that construction officially began on its Culver City office campus, WorkScapes at the Hayden Tract. The groundbreaking at the site, on Monday of last week, followed the closing of a senior loan obtained from Deutsche Bank for the renovation of the property. Designed to leverage market demand for creative offices with parking allocations in Los Angeles' vibrant Westside community, the project features the conversion of three industrial buildings into contemporary offices and the creation of a new five-story parking structure. When construction is completed, WorkScapes at the Hayden Tract will offer 126,400 square feet of two-story, loft-like offices, 556 covered parking spaces and about 190 surface parking spaces.
"We're thrilled about this project and excited to have construction underway," said Michael Hackman, founder and CEO of Hackman Capital. According to Hackman, the project reflects an important strategy for the real estate company, which currently owns and operates, through its affiliated entities, more than 100 industrial and office facilities across the country, including many in Southern California. "Our company has established a significant national presence, but Southern California is our home—and Culver City and the Hayden Tract remain a primary investment focuse. We are committed to the growth of this community," Hackman said.
Culver City has become appealing to developers, like Hackman Capital, since the community began to evolve as a hub for leading-edge advertising, media, entertainment and technology companies. The formerly industrial Hayden Tract, in particular, now touts some of Los Angeles' most visually arresting and innovative architecture. "The Hayden Tract is home to the best of the best—a tribute to architects and developers who believe in a true partnership of art and commerce," Hackman said.
Hackman Capital retained award-winning architects Abramson Teiger to transform the campus with a new design aesthetic that leverages the industrial feel of the buildings' original structural and architectural elements. Raw concrete floors will be brought back to life. Existing roof forms will be exposed to reveal beautifully detailed wood trusses and structural steel beams; and in combination with new oversized windows and skylights, building interiors will be flooded with natural light. Open floor plans will retain an expansive sense of space, ideal for today's collaborative work environments. Building exteriors will gain dynamic new facades, featuring industrial concrete, glass and sculptural steel, while landscaping will feature lush, yet low-water, plant life and multiple outdoor tenant areas with patios, barbeque pits and views of the Culver hills. WorkScapes at the Hayden Tract also will be pet friendly.
Creative office space, however, won't be the only draw. WorkScapes at the Hayden Tract will be one of the area's few campuses that can accommodate tenants seeking contiguous space up to 77,000 square feet—along with the competitive advantage of onsite tenant parking. "A critical under-supply of parking has been the single, greatest limitation to the community's expansion," said Hackman. "We were in a unique position to own over four acres of land in the Hayden Tract, and thanks to the support of the city and community, we are able to build a new parking structure, as part of the project. Parking will help attract new business to the area, and in turn, new jobs, which will increase revenues for the city."
In addition, Hackman credits the recently built Expo Line as a factor in attracting tenants to Workscapes at the Hayden Tract. The light rail from Downtown Los Angeles to Santa Monica, has two station stops in Culver City within walking distance to the campus, plus a bike and walking path.
Micheal Geller of First Property Realty Corporation, the project's exclusive listing agent, noted that the campus' prime location is a big draw. The parking structure and two of the buildings are situated on the corner of Hayden and Higuera at 8600 Hayden Place and 8550 Higuera Street. The third building is around the corner at 3644 Eastham Drive. Geller began preleasing space at the campus this past summer. The 17,800-square-foot Eastham building is now fully leased, and Geller confirms substantial leasing activity at the remaining two buildings. "Our objective is to lease the available space by the time construction is completed, and based on the interest we're generating, we're well on track to achieving our goal," Geller said. Members of Geller's leasing team include First Property's Joel Frank and Derek Scott.
Key companies on the project's development team, in addition to Abramson Teiger Architects are Artifex 10 landscape architects, VCA Engineers, Mars Engineering, Sigma Design & Insight Engineers, Standards Parking, LE Walters general buildings contractors, and Millie and Severson parking garage contractors. Hackman Capital also commissioned artist and sculptor Chris Puzio to create a large and dramatic installation on the front façade of the parking structure to help brand the campus. Development at WorkScapes at the Hayden Tract is expected to be completed by late spring.
More about Hackman Capital
Founded in 1986 and headquartered in Los Angeles, Hackman Capital is a privately held, asset-based investment firm that focuses on the acquisition of industrial real estate and the purchase and sale of industrial equipment. The firm currently owns, through its affiliated entities, 100 facilities throughout the United States, totaling approximately 18 million square feet and more than 1,300 acres of developable land. Hackman Capital also has conducted hundreds of equipment acquisitions, dispositions, and liquidations on four continents. With more than 26 years of experience in acquisition, redevelopment, and asset management, Hackman Capital is known across marketplaces for its ability to successfully navigate complex transactions and financial restructurings involving real estate and equipment. The company is based in Los Angeles. For more information, visit http://www.hackmancapital.com.