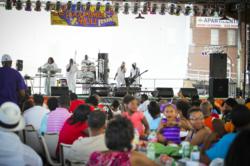 Top 20 Events are selected by a panel of judges working independently using subjective criteria – to be chosen is really something very special
Shreveport-Bossier, La. (PRWEB) December 06, 2012
Three Shreveport-Bossier festivals are featured among Southeast Tourism Society's Top 20 events publication for April – June 2013.
Cork: A Red River Revel Wine Event, April 6; the 2013 Cinco de Mayo Festival, May 4; and Rho Omega and Friends' annual Let the Good Times Roll Festival, June 21-23 were selected from a pool of nominations to be featured among events happening throughout the country's southeast region, including Alabama, South Carolina, Florida, Georgia, Mississippi, Kentucky and more.
"Top 20 Events are selected by a panel of judges working independently using subjective criteria – to be chosen is really something very special," STS Vice President of Marketing Chuck Bonelli said. Judges concentrate on the description of the event, focusing on the event's unique aspects, economic impact to the community, community involvement and community and industry acceptance, including other awards, he said. "If it is good for the community, it is the perfect Top 20 Event," Bonelli said.
Rho Omega and Friends Chairman Fred Moss IV said they're grateful for the honor. "We're just delighted and happy to receive the recognition and we're looking forward to an even bigger and better festival next year."
The Top 20 Events publication is sent to more than 1,600 newspapers, magazines, radio stations, TV stations, AAA publications and others.
View the STS Top 20 events publication here. Visit the Shreveport-Bossier Fun Guide at http://www.shreveportbossierfunguide.com to learn more about upcoming area events.
For more information:
Chris Jay, Public Relations and Social Media Manager
Shreveport-Bossier Convention and Tourist Bureau
Office: (318) 429-0645
cjay(at)sbctb(dot)org
# # #